The main Korean OST 'Christmas Tree' for the drama 'Our Beloved Summer' sung by BTS V captivated the Japanese fans with its strong song power that breaks various records on the Japanese charts.
V's 'Christmas Tree' ranked first on Shazam Japan's 'Top 200' chart for a total of 36 days. It sets the highest record as an overseas artist. It also took first place for 27 days in a row, breaking the Kpop record for the longest time.
'Christmas Tree' surpassed '200,000 Shazam in 15 days' followed by '400,000 Shazam in 31 days,' which is the shortest period since Psy. Also, it is the shortest record among BTS solo songs and the shortest record in Korean OST history.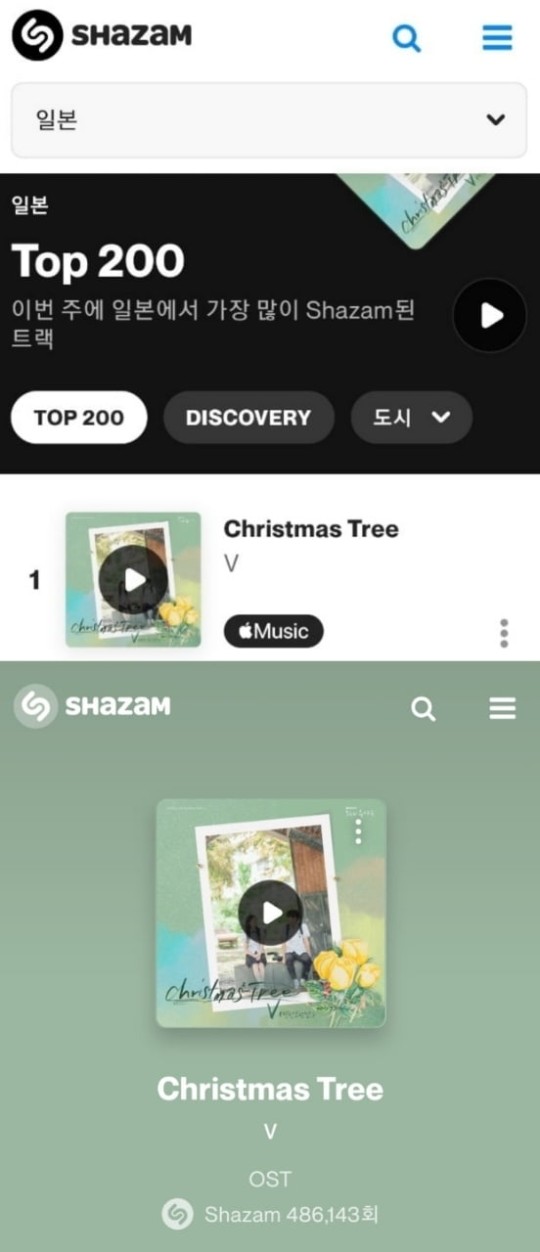 'Christmas Tree,' released on December 24, was the first Korean OST that ranked on the US Billboard's main singles chart, 'Hot 100.'
So, it demonstrates V's presence as the strongest soloist.
Next, in Japan, 'Christmas Tree' ranked 29th on Billboard Japan's 'Hot 100' in just three days rather than a week, which is the Billboard counting period and dominates all charts in Japan.
BTS V topped Japan's Itunes Top Song Chart in two hours, the shortest time. He maintained his No. 1 position for more than 89 hours, adding to the longest No. 1 record in Kpop.
V is also the first solo artist to win first place on iTunes in Japan with a Korean released song.
In addition, 'Christmas Tree' topped the Oricon 'Daily Digital Single' ranking chart with 11,771 downloads. It is the highest number among Kpop soloists in Japan.
BTS V became the first Korean solo artist to rank first on Amazon Japan in three categories at the same time. It includes Best Selling Song, Hot & New, and Movers & Shakers. Also, it debuted at 13th place on the Line Music real-time chart, the highest ranking in Korean OST history.
It also topped the music platform Mora and Mumo download daily charts and Oricon Music Store daily charts for the first time in a row for two consecutive days.
BTS V continues his milestone with 'Christmas Tree' despite no special solo activities or local promotions in Japan. It only reveals his unrivaled position as the strongest Kpop soloist.
Read More About: Seohyun Shows Off Her Cute Pictorial Photos On Instagram!
agust d
,
best Kpop girl group
,
best kpop news site
,
best kpopstar
,
breaking news kpop
,
BT21
,
BTS
,
BTS Army
,
BTS BILLBOARD
,
bts butter
,
BTS fancam
,
BTS I'll Be Missing You
,
BTS J-Hope
,
bts jimin
,
bts Jungkook
,
BTS member
,
bts member Jimin
,
BTS member V
,
BTS Members
,
BTS News
,
BTS recent news
,
BTS routine
,
BTS solo songs
,
bts suga
,
BTS trending news
,
BTS UPDATES
,
BTS V
,
daily kpop news
,
Fandom
,
Filter
,
J-hope
,
JIMIN
,
Jin
,
JUNGKOOK
,
Korean celeb news
,
Korean singer
,
Korean singer songwriter
,
KPOP
,
Kpop album
,
Kpop beauty routine
,
Kpop boy group
,
KPOP BTS
,
kpop celebrity news
,
Kpop chart and news
,
Kpop colllaboration
,
KPOP comeback
,
Kpop current news
,
kpop daily news
,
Kpop fashion
,
Kpop girls group
,
Kpop idols
,
Kpop issues
,
Kpop latest news
,
Kpop music chart
,
Kpop news
,
Kpop news articles
,
Kpop news sites
,
kpop news update
,
Kpop recent news
,
Kpop skin care routine
,
Kpop skincare routine
,
KPop trending news
,
KPOPNEWS
,
permission to dance
,
RM
,
Run BTS
,
South Korean singer songwriter
,
SUGA
,
TAEHYUNG KIM
,
the best kpop girl group
,
the best kpop girl group of 2021
,
the best kpop group of 2021
,
the top kpop group
,
top kpop boy group
,
top kpop girl group
,
V
,
weverse magazine