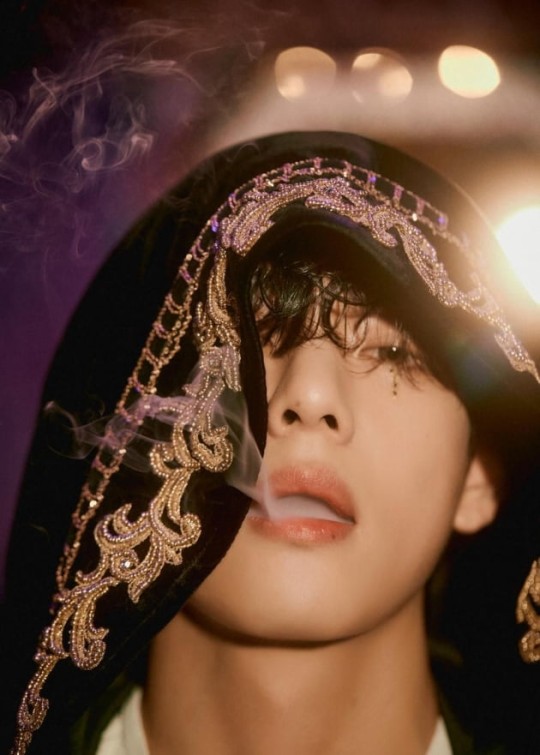 BTS V became the most viewed KPOP artist personal page view in 2021 in the official Wikipedia ranking, boasting his one-top popularity.
From January to December 2021, V proved to be a hot topic in Wikipedia statistics, with an average of 21,087 views per day a total of more than 7.69 million views.
V showed off his powerful influence by taking first place in the number of page views of not only BTS members but also all Kpop solo artists.
Also, in Wikipedia's 'Korea Official Ranking (WikiProject Korea/Popular pages),' V showed off his strong influence by ranking first in the page views of all KPOP solo artists for ten consecutive months from March to December 2021.
Notably, in December, BTS V ranked 1st in the individual rankings and 7th overall. His personal page was the only page in Korea's 'Top 10' and received a lot of attention.
Wikipedia is an online encyclopedia in the form of user participation. Remarkably, the English version of Wikipedia pages is a proven indicator that can quantify global topicality and impact.
Page view, the number of visitors, is one of the publicly recognized social popularity indicators. It may have secured credibility and popularity enough to be used as data of the US Billboard Social Chart and as an indicator of the popularity of the US presidential election.
V boasts the highest views among Kpop stars, with more than 23.51 million cumulative page views worldwide. It is from July 2015, when Wikipedia began to operate, until January 22, 2022.
In addition, BTS opened a personal Instagram account last year. V's Instagram has surpassed 1 million followers in 43 minutes and 10 million followers in 4 hours and 47 minutes. It made him listed on the 'Guinness World Record.'
The new record was officially certified and attracted attention. Recently, his four Instagram posts exceeded 17 million likes, all-killing Asia's top 4, showing off his popularity.
Also, based on data from January 1-December 14, 2021, V ranked first in 'The Most Searched Asian Celeb on Google.'
Also, he emerged as the 'World's Most Popular Celebrity in 2021' by Nubia Magazine.
BTS V also boasted strong social power and presence based on his global popularity, such as 'male and female Kpop idols' and 'Most Popular BTS Member' by Germany's most prominent magazine Brigitte.
Read More About: BTS Jungkook's 'Still With You' Surpasses 700,000 Shazam; New Record For A Korean Male Solo Idol
2022 kpop trending
,
2022 kpop updates
,
2022 latest news
,
agust d
,
best Kpop girl group
,
best kpop news site
,
best kpopstar
,
breaking news kpop
,
BT21
,
BTS
,
BTS Army
,
BTS BILLBOARD
,
bts butter
,
BTS fancam
,
BTS I'll Be Missing You
,
BTS J-Hope
,
bts jimin
,
bts Jungkook
,
BTS member
,
bts member Jimin
,
BTS member V
,
BTS Members
,
BTS News
,
BTS recent news
,
BTS routine
,
BTS solo songs
,
bts suga
,
BTS trending news
,
BTS UPDATES
,
BTS V
,
daily kpop news
,
Fandom
,
Filter
,
J-hope
,
JIMIN
,
Jin
,
JUNGKOOK
,
Korean celeb news
,
Korean singer
,
Korean singer songwriter
,
KPOP
,
kpop 2022
,
KPOP 2022 NEWS
,
Kpop album
,
Kpop beauty routine
,
Kpop boy group
,
KPOP BTS
,
kpop celebrity news
,
Kpop chart and news
,
Kpop colllaboration
,
KPOP comeback
,
Kpop current news
,
kpop daily news
,
Kpop fashion
,
Kpop girls group
,
Kpop idols
,
Kpop issues
,
Kpop latest news
,
Kpop music chart
,
Kpop news
,
Kpop news articles
,
Kpop news sites
,
kpop news update
,
Kpop recent news
,
Kpop skin care routine
,
Kpop skincare routine
,
KPop trending news
,
KPOPNEWS
,
permission to dance
,
RM
,
Run BTS
,
South Korean singer songwriter
,
SUGA
,
TAEHYUNG KIM
,
the best kpop girl group
,
the best kpop girl group of 2021
,
the best kpop group of 2021
,
the top kpop group
,
top kpop boy group
,
top kpop girl group
,
V
,
weverse magazine