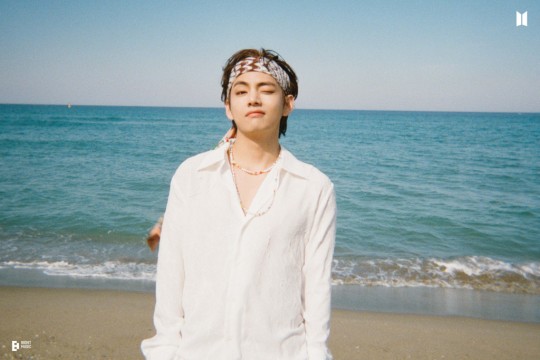 BTS V captured the hearts of fans by showing off his handsomeness and charm.
On October 1, a photo of 'Film Camera With BTS' titled 'A Trip To Gamsung with Bangrim' was posted on Big Hit Music Naver's official account and BTS official Twitter account.
The photo became a hot topic by capturing the BTS members' concept photoshoot with their unique sensibility with film cameras.
Mainly, BTS V took creative expressions and poses in every photo, with a distinctive and unique look.
With one eye closed, eyebrows raised, and looking at the camera with a provocative expression, his unique deadly aura and handsome face made fans admire him the most.
He was wearing a white T-shirt and jeans while sprinkling water with a hose. He was cool and pure enough to create the illusion of watching a youth movie poster.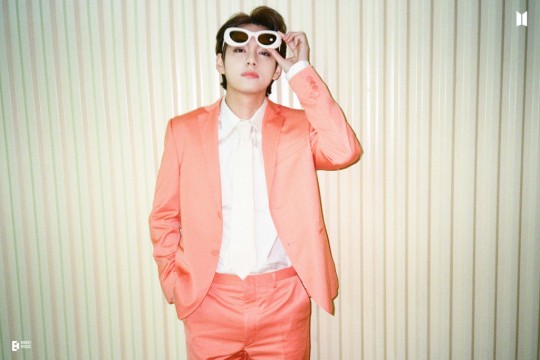 Wearing a gorgeous fluorescent orange suit, V delighted the eyes of fans with his unique pose using thick white rim sunglasses. His deep and beautiful look overwhelms any glamour. Also, he is creating a magazine scene with personality and charismatic cuts.
With a cowboy-like hat and a strong all-red look, BTS V is staring at the camera with a gentle smile. So, it excites fans with his radiant charm and bright expression.
Fans who saw V's photos of various charms and good looks said, "Born to be a superstar who makes even film cameras into pictorials," "This handsome man is so funny," and "He has a universe-like handsome face, but he's even full of charms."
Read More About: BTS Jimin, #1 On KDOL's Popularity Poll For 15 Consecutive Weeks
agust d
,
best Kpop girl group
,
best kpop news site
,
best kpopstar
,
breaking news kpop
,
BT21
,
BTS
,
BTS Army
,
BTS BILLBOARD
,
bts butter
,
BTS fancam
,
BTS I'll Be Missing You
,
BTS J-Hope
,
bts jimin
,
bts Jungkook
,
BTS member
,
bts member Jimin
,
BTS member V
,
BTS Members
,
BTS News
,
BTS recent news
,
BTS routine
,
BTS solo songs
,
bts suga
,
BTS today
,
bts trending
,
BTS trending news
,
BTS UPDATES
,
BTS V
,
BTSTREND
,
daily kpop news
,
Fandom
,
Filter
,
Group BTS
,
J-hope
,
JIMIN
,
Jin
,
JUNGKOOK
,
Kloud x BTS v
,
Korean celeb news
,
Korean singer
,
Korean singer songwriter
,
KPOP
,
Kpop album
,
Kpop beauty routine
,
Kpop boy group
,
KPOP BTS
,
kpop celebrity news
,
Kpop chart and news
,
Kpop colllaboration
,
KPOP comeback
,
Kpop current news
,
kpop daily news
,
Kpop fashion
,
Kpop girls group
,
Kpop idols
,
Kpop issues
,
Kpop latest news
,
Kpop music chart
,
Kpop news
,
Kpop news articles
,
Kpop news sites
,
kpop news update
,
Kpop recent news
,
Kpop skin care routine
,
Kpop skincare routine
,
KPop trending news
,
Kpop_BTS
,
KPOPNEWS
,
permission to dance
,
RM
,
Run BTS
,
South Korean singer songwriter
,
SUGA
,
TAEHYUNG KIM
,
the best kpop girl group
,
the best kpop girl group of 2021
,
the best kpop group of 2021
,
the top kpop group
,
top kpop boy group
,
top kpop girl group
,
V
,
weverse magazine