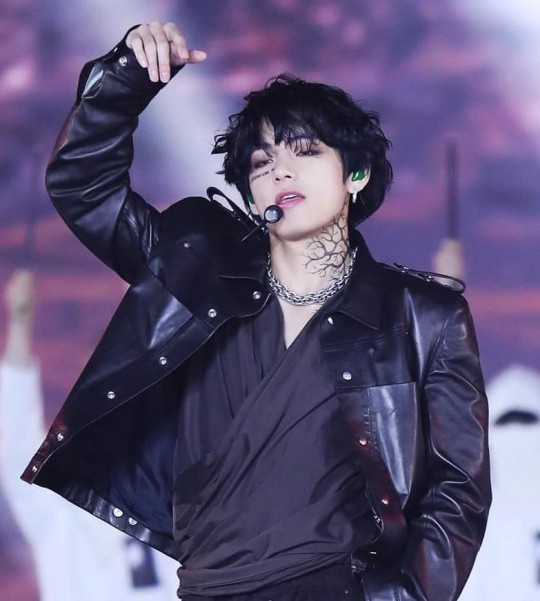 The brilliant achievements of BTS V from 'stage genius' to 'king of fancams' are becoming a hot topic.
North American media, AllKPop, recently published an article about V's 'Fancam Success Story,' receiving a hot response among fans.
Earlier, in September 2014, V became the first BTS member to receive an MPD official fancam.
At that time, in BTS's Mnet 'Danger' performance, V only has an individual fancam, along with the group's fancam.
BTS V stood out enough to have a single individual fancam. He recorded a high number of views due to his charisma and stage control. Numerous fans love him and are said to lay the foundation for the trend of fancams.
The MPD fancam of 'Not Today,' released in February 2017, was his most viewed fancam from the first day, and it was ten times different from the other members' views. Looking at V's 'Not Today' fancam four years ago, added to MBC Entertainment Research Institute's official playlist, there is no wasted time on his performance. Famous singer Lea Salonga called V 'idol's idol.'
V set an 'all-kill' record by ranking first in the number of hits on all BTS' official performance fancams for two consecutive years in 2020 and 2021. Also, he recorded the highest number of views on most stage fancams, including the title songs, since their debut.
V is the main character of the Kpop fancam with the 'highest hits' and 'most likes' of all time. The M2's famous fancam for 'Boy With Luv' has unmatched views with 136 million hits.
With this fancam, BTS V topped the most beloved content of the '2019 M2 Year-End Awards' and the famous video of Naver TV Cast settlement 'Remind 2019 Hello 2020.'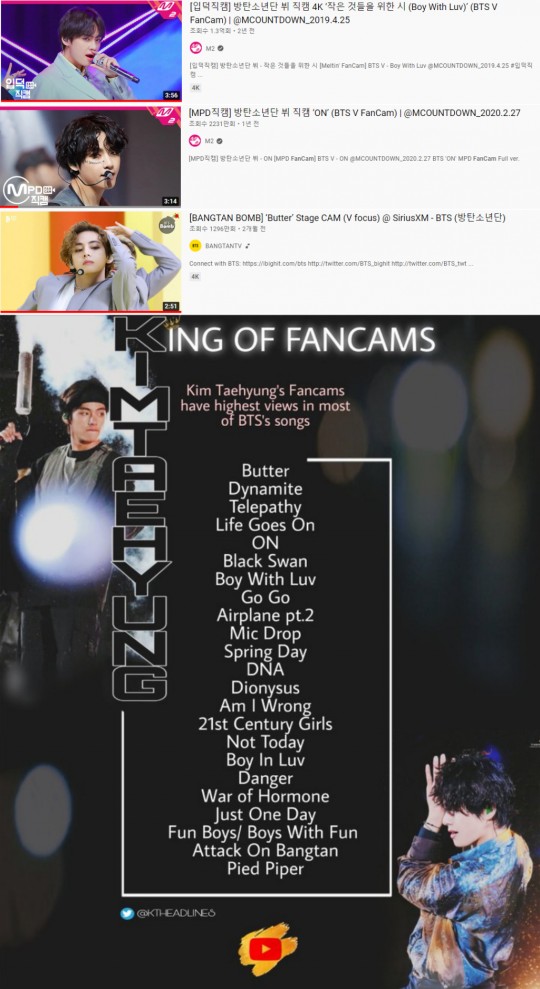 BTS V is also the only idol to have the 'highest-viewed fancam' for two consecutive years from 2019 to 2020. Besides, he ranked 1st among the personal fancams released in 2021. He has 14 fancams with more than 10 million views and two fancams with more than 20 million views.
V is the only Kpop artist worthy of the title of 'The King Of Fancam,' who has the highest number of fancams on all platforms (YouTube, Facebook, Naver).
Many dance experts praised his rhythm, grooves, long fingers, and slim body. BTS V's flexible and beautiful dance lines using long limbs, powerful yet strong, and dynamic adjustments according to the mood and lyrics of the song adds to gis charm. Also, his facial expressions made experts praised him as the 'Stage Genius' and 'Best Performer.'
Read More About: BTS Achieves Their 6th Billion-Viewed Music Video With 'IDOL'
2021 kpop news
,
2021 kpop updates
,
best 5 autumn singers
,
best Kpop girl group
,
best kpop news site
,
best Kpop site
,
best kpopstar
,
BTS
,
BTS Army
,
bts butter
,
bts jimin
,
bts jimin 2021
,
bts Jungkook 2021
,
BTS News
,
BTS songs
,
bts the best album
,
BTS today
,
bts trending
,
BTS UPDATES
,
BTS V
,
bts_butter
,
BTS_JIMIN
,
BTSTREND
,
Group BTS
,
jimin bts
,
KPOP
,
Kpop 2021
,
Kpop artist
,
Kpop artists
,
KPOP BTS
,
Kpop idols
,
Kpop news
,
Kpop trend
,
Kpop trending
,
KPop trending news
,
Kpop trending now
,
kpop trending update
,
Kpop_BTS
,
KPOP2021
,
Kpopall
,
KPOPIDA
,
KPOPNEWS
,
park jimin bts
,
the best kpop girl group
,
the best kpop girl group of 2021
,
the best kpop group of 2021
,
Trending
,
trending 2021
,
trending kpop
,
Trending Kpop news
,
trending kpop update
,
trending news
,
trending update kpop