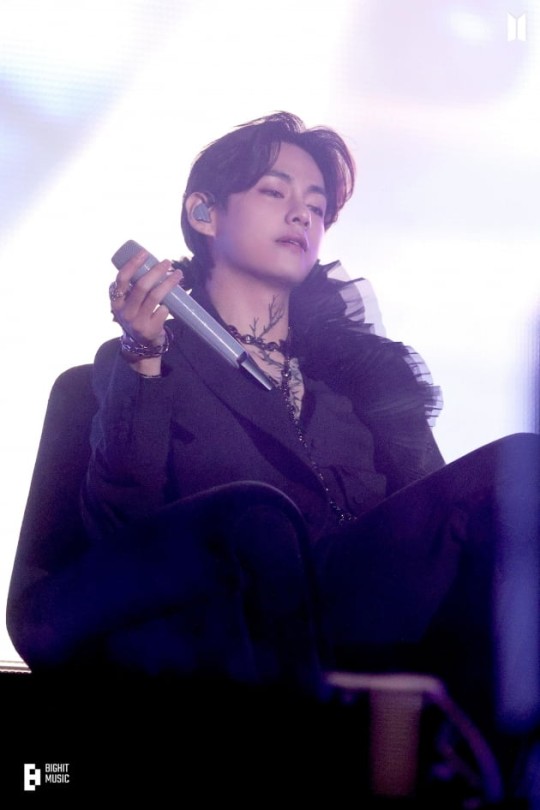 BTS V again set a record. On January 31, the OST 'Christmas Tree' of the drama 'Our Beloved Summer,' where V participated, ranked first in the 'Melon Weekly Popularity Award TOP 20' in the 4th week of January. 
After the reorganization of the Melon chart in July 2020, V is the first male solo idol to top the weekly popularity chart two weeks in a row.
After the reorganization, only two male idol soloists, including V, received the Weekly Popularity Award. In fact, V is the first among BTS members.
The Melon Weekly Popularity Award selects the 20 most popular songs on Melon during the week as nominees. It selects first place by adding the scores of the music listening rankings and direct customer participation votes.
In July 2020, Melon abolished the real-time chart and revamped the chart to a 24Hits method. It only admits one streaming per ID per day.
One year later, Melon reorganizes the TOP 100 chart. They created it by adding 1 hour and 24-hour usage in a 50/50 ratio to reflect real-time trends.
With the chart reorganization, the chart influence of fandom streaming has virtually decreased. It has become difficult to enter the top 20 on the TOP 100 chart with fandom alone without popularity.
In this situation, BTS V's 'Christmas Tree' showed off its strong song power, ranking 14th on the TOP 100 chart. After the reorganization, V became the first male idol to take the 'Weekly Popularity Award' for two weeks in a row.

'Christmas Tree' topped the Melon Artist Chart 'Men Solo' during its release. Also, it ranked in four categories: 'Ballad Genre,' 'OST Genre,' 'Search Popular Songs,' and 'Songs with Many Likes' on the 'HotTracks' chart. It took first place and proved its hot popularity.
In addition, within six days of release, the number of daily users broke the record for a male idol solo. So, the highest daily number of users is 173,991, with cumulative viewers of 1 million and 14.7 million streams.
In March 2020, V wrote, composed, and produced the drama 'Itaewon Class' OST 'Sweet Night,' which drew attention. It ranked first in OST entry rankings and first in 2020 since the Melon chart reorganization during its release.
BTS V's ability to sweep domestic and foreign charts with only drama OSTs without solo albums or personal promotions presented a clear pathway for future personal activities. Fans are looking forward to the day V will play OST in dramas and act as the main character.
Read More About: BTS V Celebrates The 3rd Anniversary Of His Self-Composed Song 'Scenery'
agust d
,
best Kpop girl group
,
best kpop news site
,
best kpopstar
,
breaking news kpop
,
BT21
,
BTS
,
BTS Army
,
BTS BILLBOARD
,
bts butter
,
BTS fancam
,
BTS I'll Be Missing You
,
BTS J-Hope
,
bts jimin
,
bts Jungkook
,
BTS member
,
bts member Jimin
,
BTS member V
,
BTS Members
,
BTS News
,
BTS recent news
,
BTS routine
,
BTS solo songs
,
bts suga
,
BTS trending news
,
BTS UPDATES
,
BTS V
,
daily kpop news
,
Fandom
,
Filter
,
J-hope
,
JIMIN
,
Jin
,
JUNGKOOK
,
Korean celeb news
,
Korean singer
,
Korean singer songwriter
,
KPOP
,
Kpop album
,
Kpop beauty routine
,
Kpop boy group
,
KPOP BTS
,
kpop celebrity news
,
Kpop chart and news
,
Kpop colllaboration
,
KPOP comeback
,
Kpop current news
,
kpop daily news
,
Kpop fashion
,
Kpop girls group
,
Kpop idols
,
Kpop issues
,
Kpop latest news
,
Kpop music chart
,
Kpop news
,
Kpop news articles
,
Kpop news sites
,
kpop news update
,
Kpop recent news
,
Kpop skin care routine
,
Kpop skincare routine
,
KPop trending news
,
KPOPNEWS
,
permission to dance
,
RM
,
Run BTS
,
South Korean singer songwriter
,
SUGA
,
TAEHYUNG KIM
,
the best kpop girl group
,
the best kpop girl group of 2021
,
the best kpop group of 2021
,
the top kpop group
,
top kpop boy group
,
top kpop girl group
,
V
,
weverse magazine