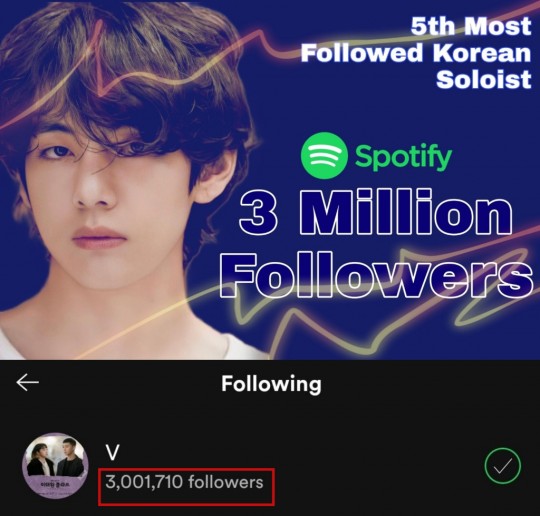 BTS V has surpassed 3 million followers on the world's largest music platform, Spotify. He is proving his strength as a Kpop singer.
According to Spotify, on May 3, V has more than 3 million followers. As a result, he has the fifth most followers as a K-pop solo artist, following BTS J-Hope, RM, Suga, and female soloist, IU.
In fact, V recorded 1 million followers on July 26 last year and then surpassed 2 million on December 11 of the same year. After releasing his own songs, his number of followers has rapidly increased in a short time.
Also, 'Sweet Night' released in March last year, widely established V's name as a solo artist, not as a group.
On V's Spotify page, there are only two songs. That;'s the song 'Sweet Night,' written and composed by V, and the OST, 'Even if I Die, It's You' of the drama Hwarang starring V, which he sang together with BTS member Jin.
He shows excellent Spotify streaming results as 'Sweet Night' ranked No.1 on iTunes in 118 countries. Also, it has the most streams in the 'Drama OST category' in the official Spotify '2020 Wrapped.'
Until now, his songs are receiving enthusiastic love with 126.64 million streams and 63 million streams, respectively.
Although there are few songs registered on V's page, the steep rise in followers proves that with global popularity, his unique and special world of music, which is different from BTS, is now recognized as a solo artist.
Indeed, his songs are captivating listeners worldwide with his beautiful melodies and delicate lyrics that evoke emotions without any special technique attract fans' attention.
[MV] V (BTS)-Sweet Night [Itaewon Class OST Part.12 (ITAEWON CLASS OST Part.12)], VLENDING
[MV] V & Jin (V&Jin (BTS))-It's Definitely You [HWARANG Pt.2], Sony Music Korea
Read More About:
BTS V 'Singularity' iTunes #1 In 49 Countries And Billboard World Digital Song Sales
NU'EST Beat Brave Girls On KBS2 'Music Bank'
BTS
,
BTS News
,
BTS songs
,
BTS today
,
BTS UPDATES
,
BTS V
,
BTS_V
,
BTSTREND
,
Group BTS
,
Kim Taeyung
,
KPOP
,
Kpop 2021
,
Kpop artist
,
Kpop artists
,
KPOP BTS
,
Kpop idols
,
Kpop news
,
Kpop trending
,
KPop trending news
,
Kpop trending now
,
Kpop_BTS
,
KPOP2021
,
Kpopall
,
KPOPIDA
,
KPOPNEWS
,
trending kpop
,
Trending Kpop news
,
trending kpop update