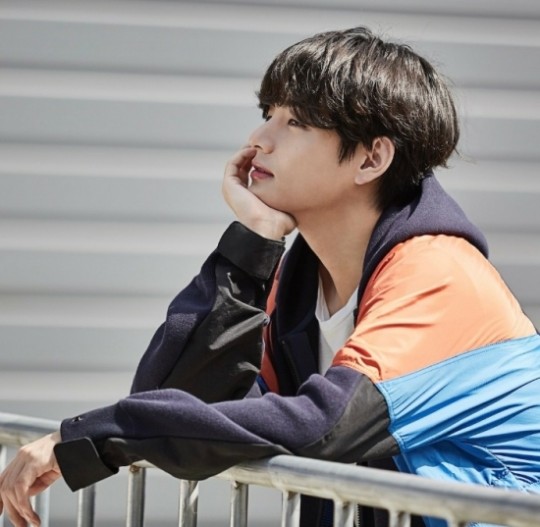 The charm of Kpop group BTS V is eye-catching.
On November 26, Hyundai Motor Company posted a picture of V with a caption, "V preparing for the Hyundai X BTS collaboration film shooting' on their global official social media account.
In the published photo, V matched a white T-shirt with a casual jacket.
In addition, he naturally lowered his hair and showed off his youthful charm.
So, V's appearance captured women's hearts.
Meanwhile, the Kpop group BTS received the 'Artist of the Year' awards at the '2021 American Music Awards (AMAs).'
BTS attended the '2021 American Music Awards' held at the Microsoft Theater in Los Angeles, USA, on November 21 (US time). They were nominated in three categories, including 'Artist of the Year,' 'Favorite Pop Song/Butter,' and 'Favorite Pop Duo or Group.'
Fortunately, they all won the awards they were nominated for. Also, BTS decorated the finale performance of this year's awards ceremony as 'Artist of the Year,' the grand prize of the 'American Music Awards.'
BTS has been honored with winning the American Music Awards for the fourth consecutive year from 2018 to this year. Notably, they have won the 'Artist of the Year' and 'Favorite Pop Song' awards for the first time this year. So, it only proves their increased 'global status.'
Read More About: BTS Starts Its First In-Person Concert After Waiting For Two Years
agust d
,
best Kpop girl group
,
best kpop news site
,
best kpopstar
,
breaking news kpop
,
BT21
,
BTS
,
BTS Army
,
BTS BILLBOARD
,
bts butter
,
BTS fancam
,
BTS I'll Be Missing You
,
BTS J-Hope
,
bts jimin
,
bts Jungkook
,
BTS member
,
bts member Jimin
,
BTS member V
,
BTS Members
,
BTS News
,
BTS recent news
,
BTS routine
,
BTS solo songs
,
bts suga
,
BTS trending news
,
BTS UPDATES
,
BTS V
,
daily kpop news
,
Fandom
,
Filter
,
J-hope
,
JIMIN
,
Jin
,
JUNGKOOK
,
Korean celeb news
,
Korean singer
,
Korean singer songwriter
,
KPOP
,
Kpop album
,
Kpop beauty routine
,
Kpop boy group
,
KPOP BTS
,
kpop celebrity news
,
Kpop chart and news
,
Kpop colllaboration
,
KPOP comeback
,
Kpop current news
,
kpop daily news
,
Kpop fashion
,
Kpop girls group
,
Kpop idols
,
Kpop issues
,
Kpop latest news
,
Kpop music chart
,
Kpop news
,
Kpop news articles
,
Kpop news sites
,
kpop news update
,
Kpop recent news
,
Kpop skin care routine
,
Kpop skincare routine
,
KPop trending news
,
KPOPNEWS
,
permission to dance
,
RM
,
Run BTS
,
South Korean singer songwriter
,
SUGA
,
TAEHYUNG KIM
,
the best kpop girl group
,
the best kpop girl group of 2021
,
the best kpop group of 2021
,
the top kpop group
,
top kpop boy group
,
top kpop girl group
,
V
,
weverse magazine