BTS V showed off his advertising power with his unrivaled appearance and overwhelming charisma.
'Kloud' fresh draft beer, which BTS is active as a model, released a third advertisement poster on the official Instagram account of Lotte Chilsung Beverage on May 15th.
BTS V perfectly pulled off the all-navy suit, giving off his dandy and masculine charm. It gives more light to his handsomeness.
He boasted an overwhelming presence in the middle of the poster and thrilled fans with his charismatic appearance.
BTS V showed off his dark brown hair with a natural side hair wave and an all-navy suit identical to the members. He leaned one arm against his knee while showing off his natural modeling skills with a pose that adds to his masculine charm.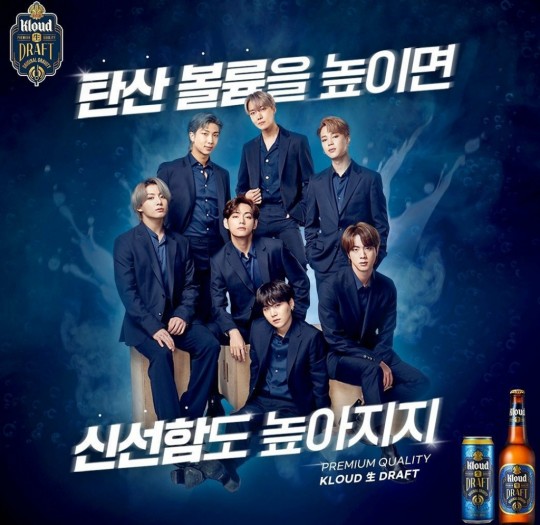 On top of that, BTS V's dreamy and intense gaze, which seemed to raise his head and look down, dominated the screen with his unique aura, mesmerizing eyes, and bad boy-like sexiness.
Fans showed hot reactions such as 'Face Winning Center, Taehyung Win."
"Features in that small face. What is it? You can see it while running on the Saturn's belt."
"It's so sexy that my heart is shaking."
Read More About: "BTS J-Hope Has Fundamental Goodness And Overwhelming Talent" – Rolling Stone
2021 kpop updates
,
BTS
,
BTS News
,
BTS today
,
BTS UPDATES
,
BTS V
,
BTS_V
,
BTSTREND
,
KIM TAEHYUNG
,
Kim Taeyung
,
KPOP
,
Kpop 2021
,
Kpop artist
,
Kpop artists
,
KPOP BTS
,
Kpop idols
,
Kpop news
,
Kpop trend
,
Kpop trending
,
KPop trending news
,
Kpop trending now
,
kpop trending update
,
Kpop_BTS
,
KPOP2021
,
Kpopall
,
KPOPIDA
,
KPOPNEWS
,
trending kpop
,
Trending Kpop news
,
trending kpop update
,
trending update kpop