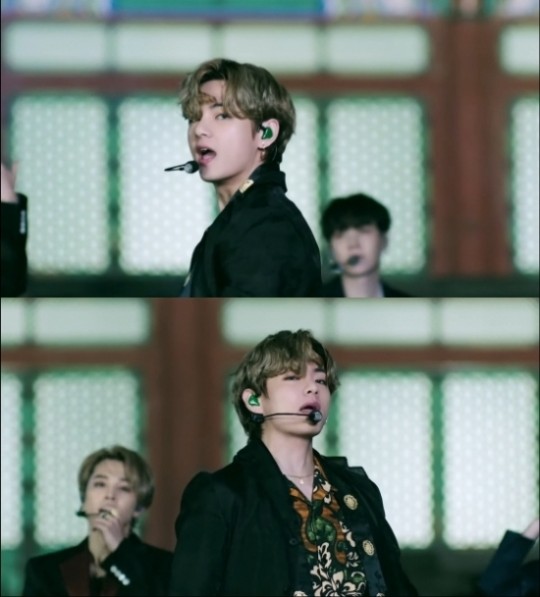 BTS V struck the fans' hearts with his absolutely handsome prince-like appearance.
On BTS' official YouTube channel, 'Bangtan TV,' they released a video of the behind-the-scenes of 'IDOL' and 'Mikrokosmos' from the 'MAP OF THE SOUL: PERSONA' on US NBC program 'Jimmy Fallon Show' in October last year.
BTS shines even more like a majesty in the Gyeongbokgung Palace (in Korea).
Among them, BTS V appeared wearing a modern-style Hanbok (Korean traditional dress) jacket with curly light brown hair. He showed his charisma with gorgeous inner clothing and a sophisticated gold leaf pattern.
He instantly captured the hearts of fans with his appearance like a prince, bringing life to the fantasy.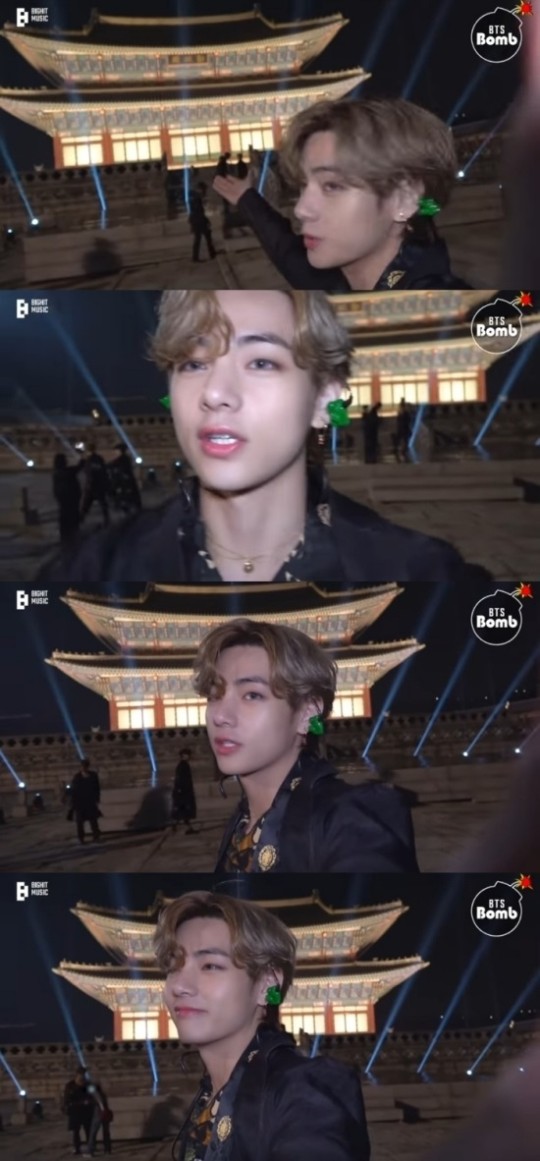 Particularly, V introduced that they would be performing at Gyeongbokgung Palace, saying, "How wonderful would 'IDOL' be?" Please look forward to it," he said with a cute look on his face, making fans excited.
Fans who watched the video responded enthusiastically by saying,
"Your Highness Taehyung Kim finally established the country."
"Yongan's handsomeness is blinding that I naturally bows my head."
"It's too bad that he's even cute after being born with cuteness.
"Is he the handsome monarch this time?"
Read More About: BTS V 'Borahae,' Written in Korean On McDonalds BTS Meal
BTS
,
BTS Army
,
BTS Map of the soul 7
,
BTS News
,
BTS today
,
BTS UPDATES
,
BTS V
,
BTS_V
,
BTSTREND
,
KIM TAEHYUNG
,
Kim Taeyung
,
KPOP
,
Kpop artist
,
KPOP BTS
,
Kpop news
,
Kpop trending
,
KPop trending news
,
Kpop trending now
,
Kpop_BTS
,
KPOP2021
,
Kpopall
,
KPOPIDA
,
KPOPNEWS
,
Trending
,
trending 2021
,
trending kpop
,
Trending Kpop news
,
trending kpop update
,
trending news
,
trending update kpop
,
v bts
,
V OF BTS