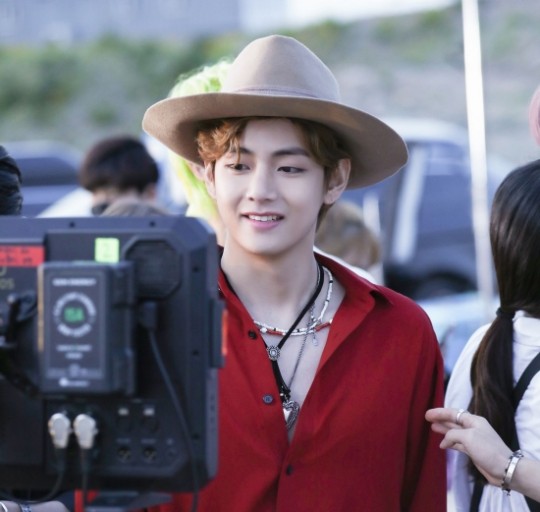 Kpop group BTS V ranked first in 'A star who seems to make a beautiful Songpyeon (traditional Korean food).'
On the idol voting service app 'Idol Chart,' they held a survey from September 13th to 19th, with the subject of 'A happy Chuseok (Autumn Eve), which star is most likely to make a beautiful songpyeon?'
Among the 55,055 participants, BTS V took first place with a total of 27,473 votes.
Meanwhile, the Kpop group BTS will host a concert next month.
On September 15th, BTS announced on the fan community platform Weverse and official social media, "We will host the concert 'BTS PERMISSION TO DANCE ON STAGE' on October 24th."
The concert will take place online through live streaming.
Along with the concert's announcement, the main poster for 'BTS PERMISSION TO DANCE ON STAGE' was also released. The poster uses the symbolic color and cheerful atmosphere of the single CD 'Butter' containing 'Permission to Dance.'
The poster contains the title and date of the performance and the appearance of the members sitting between the lights and speakers. The seven members raised the fans' expectations for the concert with their different outfits and unique expressions.
Read More About: BTS Successfully Made Their Speech At The UN General Assembly
2021 kpop news
,
2021 kpop news updates
,
2021 news kpop
,
best kpop news site
,
BTS
,
BTS Army
,
bts butter
,
bts jimin
,
BTS News
,
BTS songs
,
BTS today
,
bts trending
,
BTS UPDATES
,
BTS V
,
BTS_JIMIN
,
BTSTREND
,
daily kpop news
,
Group BTS
,
Korean celeb news
,
KPOP
,
Kpop 2021
,
Kpop artist
,
Kpop artists
,
KPOP BTS
,
kpop celebrity news
,
kpop daily news
,
Kpop idols
,
Kpop latest news
,
Kpop news
,
Kpop recent news
,
Kpop trend
,
Kpop trending
,
KPop trending news
,
Kpop trending now
,
Kpop_BTS
,
KPOP2021
,
Kpopall
,
KPOPIDA
,
KPOPNEWS
,
Kpopnews 2021
,
Kpopnews2021
,
latest kpop news
,
recent kpop news
,
Trending Kpop news
,
trending kpop update
,
trending news