BTS V enjoys his top-tier popularity in Japan by ranking first in the popularity ranking for 37 consecutive weeks on the Japanese Kpop idol ranking site 'Nehan.'
V took first place in Nehan's Kpop male idol ranking popularity poll held from November 29 to December 5. He proves that he is the best Kpop star in Japan. In the vote for 'Korean actors in their 20s' conducted by 'BiHan,' a Japanese popular ranking site for Korean actors, V showed off his unrivaled popularity, ranking on the list for 32 weeks in a row.
On December 1, pre-orders for the January issue of 'GQ KOREA,' where BTS appeared as the cover model, started at Rakuten and Qoo10, Japan's largest internet shopping malls. On the first day, V's GQ magazine cover was released in just a few hours. It made a fantastic sight to sell out in limited quantities. Also, at Rakuten, only the V version sell-out and restocked. Then, in Q10, it was the first to sell out, proving his top-tier popularity in Japan with his powerful appeal.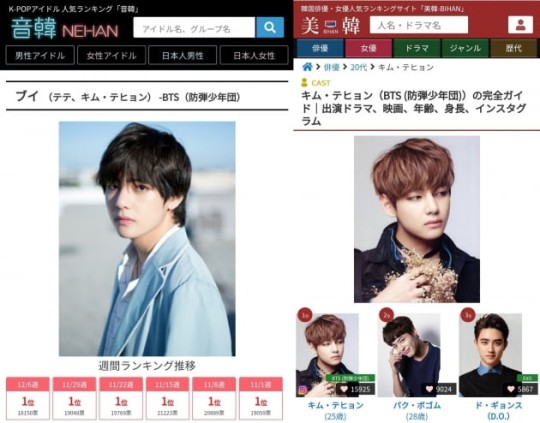 In addition, V's solo song 'Singularity' recently topped the global streaming platform 'Deezer Japan' top 100 chart. He became the first BTS member to rank first on the chart. BTS V's solo songs and self-composed songs occupied the second to fourth places of the chart. So, he is creating a sensation not only visually but also musically in Japan.
On December 11, V's solo song 'Stigma' ranked third, and his self-composed songs 'Blue & Grey' and 'Inner Child' ranked fourth and fifth, respectively. Then, 'Singularity' ranked sixth and 'Hold Me Tight' ranked 13th, showing off its music power and gaining steady popularity.
Meanwhile, BTS V has also dominated various Kpop-related surveys by Japan's popular voting site 'Ranking.Net,' reflecting the main voting ranking and real-time trends of 'K-POP JUICE,' another representative popular chart in Japan.
Read More About: BTS Jimin's Tweet Ranked 1st On The Most Retweeted Tweets On Indian Twitter Trends 2021
agust d
,
best Kpop girl group
,
best kpop news site
,
best kpopstar
,
breaking news kpop
,
BT21
,
BTS
,
BTS Army
,
BTS BILLBOARD
,
bts butter
,
BTS fancam
,
BTS I'll Be Missing You
,
BTS J-Hope
,
bts jimin
,
bts Jungkook
,
BTS member
,
bts member Jimin
,
BTS member V
,
BTS Members
,
BTS News
,
BTS recent news
,
BTS routine
,
BTS solo songs
,
bts suga
,
BTS trending news
,
BTS UPDATES
,
BTS V
,
daily kpop news
,
Fandom
,
Filter
,
J-hope
,
JIMIN
,
Jin
,
JUNGKOOK
,
Korean celeb news
,
Korean singer
,
Korean singer songwriter
,
KPOP
,
Kpop album
,
Kpop beauty routine
,
Kpop boy group
,
KPOP BTS
,
kpop celebrity news
,
Kpop chart and news
,
Kpop colllaboration
,
KPOP comeback
,
Kpop current news
,
kpop daily news
,
Kpop fashion
,
Kpop girls group
,
Kpop idols
,
Kpop issues
,
Kpop latest news
,
Kpop music chart
,
Kpop news
,
Kpop news articles
,
Kpop news sites
,
kpop news update
,
Kpop recent news
,
Kpop skin care routine
,
Kpop skincare routine
,
KPop trending news
,
KPOPNEWS
,
permission to dance
,
RM
,
Run BTS
,
South Korean singer songwriter
,
SUGA
,
TAEHYUNG KIM
,
the best kpop girl group
,
the best kpop girl group of 2021
,
the best kpop group of 2021
,
the top kpop group
,
top kpop boy group
,
top kpop girl group
,
V
,
weverse magazine