The luxury jacket and silk pajama worn by BTS V add to his sold-out list. It only proves his powerful V-effect and 'sold-out king' aspect.
In the challenge video for Hyundai Motor's carbon-neutral campaign 'Expecting Generation One,' where BTS acts as a global ambassador, V captured fans with a cheerful and sensual dance, exuding a youthful charm.
V wore a casual block jacket matched with orange and blue in the video. Then, he delivered the message with a cheerful dance.
Sacai's Colour-block panel jacket, a practical and original brand worn by V, sell out on the sales site right after the release of V's video.
While V was enjoying his vacation in the second episode of JTBC's entertainment program 'BTS In The Soop Season 2,' which aired on October 22, V wore comfortable pajamas with colorful flower patterns while singing in the karaoke.
V's Tom Ford silk pajamas were surprising as it sells out immediately after the release of the episode, even though the item is quite expensive.
V's name itself is becoming the brand itself, causing a sold-out crisis as soon as V wears it. As the world's most handsome titleholder, his luxurious and beautiful appearance and sense of excellent performance in any design stand out. What V wears and uses sells out regardless of type with the purchasing power of a strong global fandom.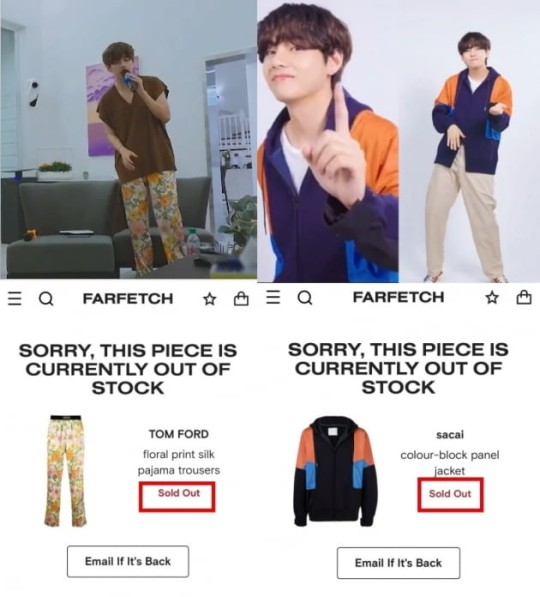 Louis Vuitton's outfit, where BTS is a goodwill ambassador, will surely sell out immediately, even at an expensive price if V wears it. Since 2018, before BTS became a goodwill ambassador, V's silver lockit bracelet, matching V's best friends Seojoon Park and Wooshik Cho, has been called Louis Vuitton's sold-out icon by fashion magazines.
In BTS's first collaboration video, V's white jacket sells out immediately after the video's release, surprising Louis Vuitton's headquarters.
Read More About: BTS Jimin Receives Aout 350 Official Accounts & Media Congratularoty Messages Troiugh The Jimtober Festival
agust d
,
best Kpop girl group
,
best kpop news site
,
best kpopstar
,
breaking news kpop
,
BT21
,
BTS
,
BTS Army
,
BTS BILLBOARD
,
bts butter
,
BTS fancam
,
BTS I'll Be Missing You
,
BTS J-Hope
,
bts jimin
,
bts Jungkook
,
BTS member
,
bts member Jimin
,
BTS member V
,
BTS Members
,
BTS News
,
BTS recent news
,
BTS routine
,
BTS solo songs
,
bts suga
,
BTS trending news
,
BTS UPDATES
,
BTS V
,
daily kpop news
,
Fandom
,
Filter
,
J-hope
,
JIMIN
,
Jin
,
JUNGKOOK
,
Korean celeb news
,
Korean singer
,
Korean singer songwriter
,
KPOP
,
Kpop album
,
Kpop beauty routine
,
Kpop boy group
,
KPOP BTS
,
kpop celebrity news
,
Kpop chart and news
,
Kpop colllaboration
,
KPOP comeback
,
Kpop current news
,
kpop daily news
,
Kpop fashion
,
Kpop girls group
,
Kpop idols
,
Kpop issues
,
Kpop latest news
,
Kpop music chart
,
Kpop news
,
Kpop news articles
,
Kpop news sites
,
kpop news update
,
Kpop recent news
,
Kpop skin care routine
,
Kpop skincare routine
,
KPop trending news
,
KPOPNEWS
,
permission to dance
,
RM
,
Run BTS
,
South Korean singer songwriter
,
SUGA
,
TAEHYUNG KIM
,
the best kpop girl group
,
the best kpop girl group of 2021
,
the best kpop group of 2021
,
the top kpop group
,
top kpop boy group
,
top kpop girl group
,
V
,
weverse magazine