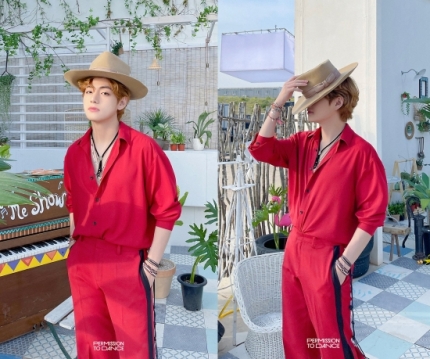 BTS V catches the eyes of the fans with his sculptural and splendid look.
On August 2nd, Big Hit Music's Naver Post released a background screen picture for the 'Permission to Dance' music video.
They uploaded four wallpapers of each BTS member titled 'ARMY's Monday Sickness Therapist – Banglim,' by the post manager 'Banglim.'
So, it attracted the attention of fans.
Among them, BTS V showed off an all-red outfit with light brown hair.
So, his extraordinary appearance captured the hearts of women.
Meanwhile, the group BTS has maintained its top spot on the US Billboard's main singles chart, 'Hot 100,' for 10 weeks.
US Billboard posted an article on its official website on August 2nd. Billboard said, "BTS' digital single 'Butter' topped the latest chart (as of August 7), for the ninth time, in 'Hot 100.'"
As a result, 'Butter' surpassed Olivia Rodrigo's 'Driver's License,' which topped the 'Hot 100' for 8 weeks from January to March. This became 'Butter' having the most record in the 'Hot 100' chart this year.
Read More About: BTS Jimin, Kloud Beer Video Behind-The-Scenes Released!
BTS
,
BTS News
,
BTS Permission To Dance
,
BTS recent news
,
BTS songs
,
BTS today
,
bts trending
,
BTS UPDATES
,
BTS V
,
BTS_V
,
BTSTREND
,
Group BTS
,
KIM TAEHYUNG
,
KPOP
,
Kpop artist
,
Kpop artists
,
KPOP BTS
,
Kpop latest news
,
Kpop news
,
Kpop recent news
,
Kpop trend
,
Kpop trending
,
KPop trending news
,
Kpop trending now
,
kpop trending update
,
Kpop_BTS
,
KPOP2021
,
KPOPIDA
,
KPOPNEWS
,
latest kpop news
,
latest kpop updates
,
permission to dance
,
permission to dance challenge
,
recent kpop news
,
Trending
,
trending 2021
,
trending kpop
,
Trending Kpop news
,
trending kpop update
,
trending news
,
trending update kpop