While BTS V's 'Borahae' is well-known all over the world, V's 'TaeTae Set' is also gaining popularity. It is becoming a hot topic.
'The BTS Set,' which BTS launched in 50 countries worldwide on May 27 in collaboration with McDonald's, a global fast-food company, is gaining great popularity.
In addition, V mentioned that 'Oreo McFlurry' ice cream and 'Double Bulgogi Burger,' are his favorite. Since then, fans call it the 'Taetae Set,' which is V's nickname. It is attracting attention and very popular with fans.
V is famous for his love of hamburgers. Fans have long been known the 'TaeTae Set.'
V chose McNuggets, Oreo McFlurry, and Double Bulgogi Burger Large Set as his favorite menu combination.
V has been recommending the 'Taetae Set' to fans since 2016. So, there have been many posts from fans showing themselves eating the 'Taetae Set' since 2016.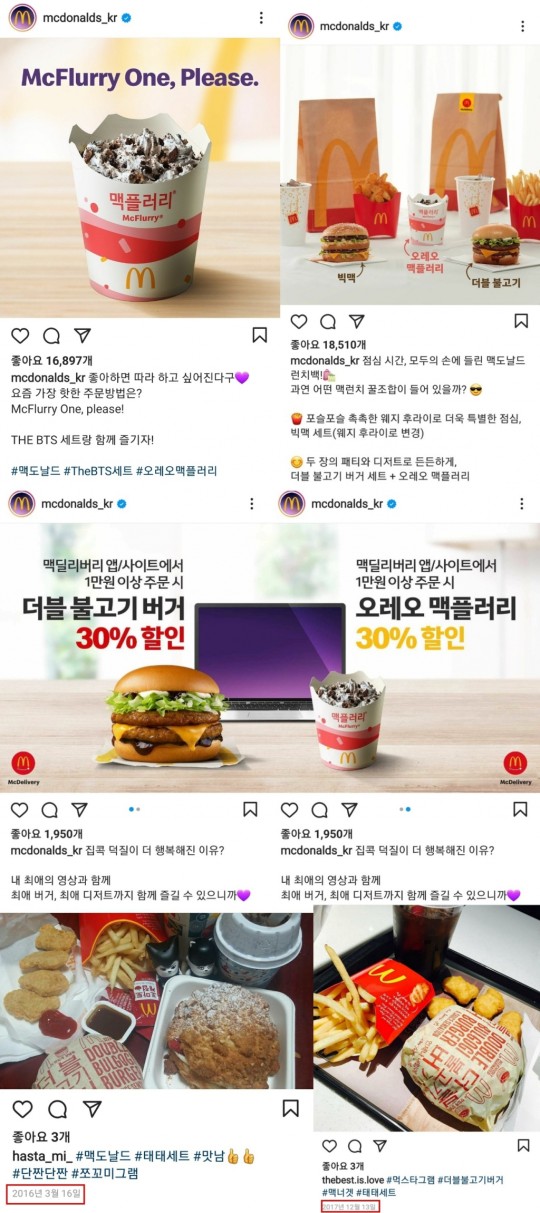 Also, during the 2017 concert, a cute video in which V loudly recommends Taetae set as a dinner menu to fans is very popular. It continues to be the topic among fans.
Fans' affection for the 'Taetae Set' met with collaboration with McDonald's, creating a synergy effect. The product sales rise even though the 'TaeTae Set' is not an official BTS set.
McDonald's showed off its aggressive marketing by putting Oreo McFlurry and Double Bulgogi Burger on the front of the event product through its official Instagram account and application as if it had waited, realizing its popularity for 'Taetae Set.'
Many loved Oreo McFlurry, also called 'V Ice Cream.' In BTS' travel program 'Bon Voyage Season 4,' when V visited McDonald's in New Zealand to order a menu, he cutely said "Oreo Macflurry one, please."
At that time, 'Oreo McFlurry' became a Twitter trend worldwide. Also, McDonald's in New Zealand introduced the meal, which V ordered, on their tray mat. The locals also call it the 'Taetae Set' and caused explosive responses from fans.
When the news of the BTS set's release spread, fans celebrated along with hamburger lover V. Also, the video received explosive love again through social media, showing fans' expectations for 'Taetae Set.'
Reflecting its popularity, McDonald's made headlines when they announced in advance that sales of Oreo McFlurry would surge through a work guide for BTS sets.
The drink cup has the word 'Borahae' written on it. BTS V created the word 'Borahae' on the spot during the BTS fan meeting in November 2016.
And, on June 4th, HYBE registered the trademark right of 'Borahae' with the Korean Intellectual Property Office.
Read More About: BTS Jungkook, "This Is Our Summer" With FILA Korea
2021 kpop
,
2021 kpop news
,
2021 kpop news updates
,
2021 kpop updates
,
2021 news kpop
,
2021 updates on kpop
,
BTS
,
BTS Army
,
BTS News
,
BTS SET
,
BTS today
,
bts trending
,
BTS UPDATES
,
BTS V
,
BTS_V
,
BTSTREND
,
Group BTS
,
KIM TAEHYUNG
,
Kim Taeyung
,
KPOP
,
Kpop 2021
,
Kpop artist
,
Kpop artists
,
KPOP BTS
,
Kpop idols
,
Kpop news
,
Kpop trend
,
Kpop trending
,
KPop trending news
,
Kpop trending now
,
kpop trending update
,
Kpop_BTS
,
KPOP2021
,
Kpopall
,
KPOPIDA
,
KPOPNEWS
,
Kpopnews 2021
,
TAETAE SET
,
Trending
,
trending 2021
,
trending kpop
,
Trending Kpop news
,
trending kpop update
,
trending news
,
trending update kpop
,
V OF BTS