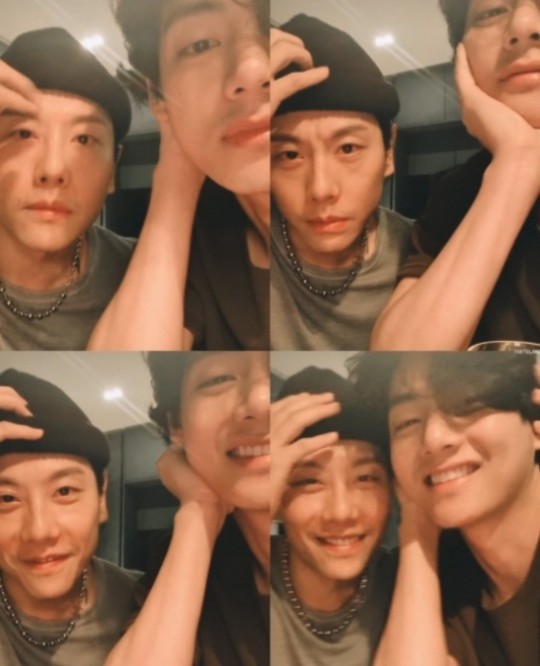 The meeting between BTS V and singer Hyoshin Park gained attention.
In the early morning of January 31, BTS V posted a short video of him affectionately talking about meeting Hyoshin Park and singing songs on his Instagram story.
The video began with Matt Maltese's 'Less and Less' flowing, with V saying "just" and smiles.
After that, Hyoshin Park gently wrapped V's head with his hands, showing good friendship. Next, V and Hyoshin sang 'Less and Less' together, attracting attention.
For a long time, BTS V showed a deep affection for Hyoshin Park's song. Earlier, V posted Hyoshin's 'Sound of Winter,' along with the caption, "I'm desperate for a new song" on Instagram. He often showed up to fans singing Hyoshin's songs.
This meeting between V and Hyoshin Park attracted the attention of netizens and fans.
Meanwhile, Kpop group BTS shows its unfading popularity on the US Billboard charts.
According to the latest chart released by the US music media Billboard on January 25, BTS, along with Coldplay, charted for 17 consecutive weeks with 'My Universe,' released on September 24 last year, ranked 92nd. It rose two steps from the previous week on the Billboard main single chart 'Hot 100.'
'My Universe' also ranked 19th in 'Adult Pop Airplay' and 36th in 'Billboard Canadian Hot 100.'
Read More About: BTS Jungkook Once Again Sniped Women's Hearts With His Intense Charisma!
agust d
,
best Kpop girl group
,
best kpop news site
,
best kpopstar
,
breaking news kpop
,
BT21
,
BTS
,
BTS Army
,
BTS BILLBOARD
,
bts butter
,
BTS fancam
,
BTS I'll Be Missing You
,
BTS J-Hope
,
bts jimin
,
bts Jungkook
,
BTS member
,
bts member Jimin
,
BTS member V
,
BTS Members
,
BTS News
,
BTS recent news
,
BTS routine
,
BTS solo songs
,
bts suga
,
BTS trending news
,
BTS UPDATES
,
BTS V
,
daily kpop news
,
Fandom
,
Filter
,
J-hope
,
JIMIN
,
Jin
,
JUNGKOOK
,
Korean celeb news
,
Korean singer
,
Korean singer songwriter
,
KPOP
,
Kpop album
,
Kpop beauty routine
,
Kpop boy group
,
KPOP BTS
,
kpop celebrity news
,
Kpop chart and news
,
Kpop colllaboration
,
KPOP comeback
,
Kpop current news
,
kpop daily news
,
Kpop fashion
,
Kpop girls group
,
Kpop idols
,
Kpop issues
,
Kpop latest news
,
Kpop music chart
,
Kpop news
,
Kpop news articles
,
Kpop news sites
,
kpop news update
,
Kpop recent news
,
Kpop skin care routine
,
Kpop skincare routine
,
KPop trending news
,
KPOPNEWS
,
permission to dance
,
RM
,
Run BTS
,
South Korean singer songwriter
,
SUGA
,
TAEHYUNG KIM
,
the best kpop girl group
,
the best kpop girl group of 2021
,
the best kpop group of 2021
,
the top kpop group
,
top kpop boy group
,
top kpop girl group
,
V
,
weverse magazine