BTS V took the first place in Japan's popularity voting ranking and proved his popularity as a TOP K-pop artist in Japan.
On June 12th, V took first place in the 'KPOP Idol Popularity Voting Ranking' of 'KPOP JUICE,' a popular site that deals with the popularity rankings and audition information of KPOP idols in Japan.
The fact that the idols that took the 2nd and 3rd places are all Japanese idols, surpassing the Japanese idols to take first place proves BTS V's status in Japan.
In addition to the daily rankings on June 12th, the weekly rankings, the monthly rankings for June, and the overall voting rankings, BTS V all swept the top spot, boasting his unrivaled popularity.
Not only that, but he also took first place in the Twitter and 'Like' rankings. He reached the top spot by period and index, realizing V's sky-high popularity in Japan.
BTS V's run to the top of the list in Japan is not new. Last week, V topped the list of KPOP male idols on the Japanese ranking site 'Nehan.'
He is setting the record for the 10th consecutive week.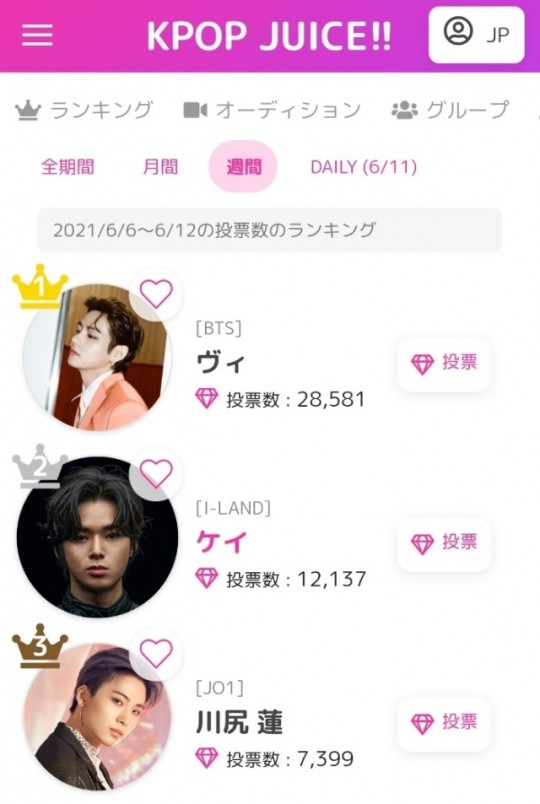 In the same week, in the ranking of 'Korean actors in their twenties' by 'Bihan,' a popular ranking site for Korean actors in Japan, he also won with 14,026 votes. He is ranking first for 6 weeks in a row.
There is only one drama, 'Hwarang,' in which BTS V appeared as an actor. But, he ranked second in the overall ranking of actors. It only proves the expectations of Japanese fans for V as an actor.
Also, Japan's popular voting site 'Ranking.net,' which reflects real-time trends, V ranked first in various polls. He took the top spot in 'Japan's Most Popular Male Idol,' 'The Most Handsome Korean Idol,' and 'Favorite BTS Member.'
Aside from that, V took first place in 'The Most Handsome BTS Member,' which surprised everyone.
In addition, JJ, a Japanese fashion and lifestyle magazine selected V as one of the top 3 handsome actors in K-drama. Besides, the fashion magazine, '25ans' selected V as one of the 'Face Genius Kings Of Hallyu.'
Along with V on the list are Eunwoo Cha, Hyun Bin, and Seojoon Park. So, many fans are expecting that V will be the vanguard of the 4th generation Korean Wave.
BTS V, the 4th generation Korean Wave leader, is expected to continue his popularity as a top-ranked artist in Japan. It is by dominating website rankings, No. 1 soloist, and various entertainment indicators.
Read More About: BTS vs. Heize vs. OH MY GIRL, 1st Place Face-Off On SBS Inkigayo
2021 kpop news
,
2021 kpop updates
,
BTS
,
BTS News
,
BTS today
,
bts trending
,
BTS UPDATES
,
BTS V
,
BTS_V
,
BTSTREND
,
Group BTS
,
KIM TAEHYUNG
,
Kim Taeyung
,
KPOP
,
Kpop 2021
,
Kpop artist
,
Kpop artists
,
KPOP BTS
,
Kpop idols
,
Kpop news
,
Kpop trend
,
Kpop trending
,
KPop trending news
,
Kpop trending now
,
kpop trending update
,
Kpop_BTS
,
KPOP2021
,
Kpopall
,
KPOPIDA
,
KPOPNEWS
,
Trending
,
trending 2021
,
trending kpop
,
Trending Kpop news
,
trending kpop update
,
trending news
,
trending update kpop