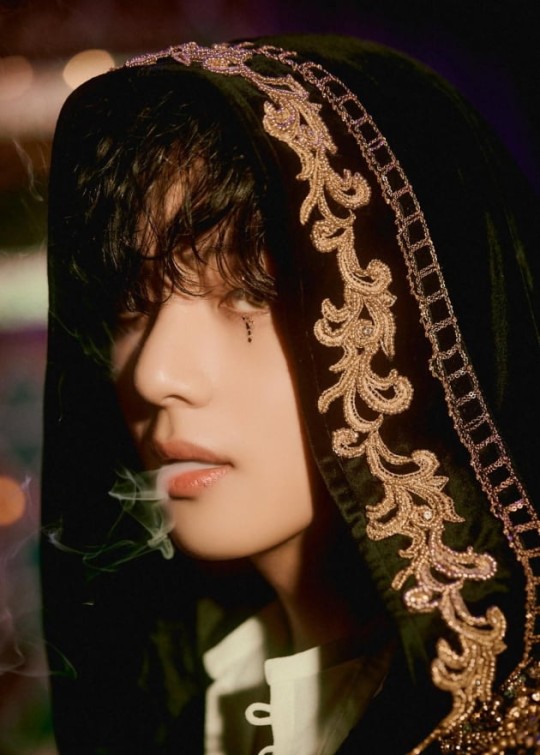 BTS V continued to communicate with fans worldwide even during his vacation period.
After the 'Permission to Dance on Stage' LA concert and the '2021 Jingle Ball Tour,' BTS wrapped up their official schedule for this year and took an official long vacation.
After returning from a schedule in the US on December 9, BTS V had time to actively communicate through fan community platforms such as Weverse, Instagram, and BTS' official Twitter account. V wrote comments on fans' posts or posted photos. So, BTS' vacation is becoming a happier time for fans.
On December 11, BTS V released a pictorial with the concept of a 'shaman' with smoke coming out of his mouth under the title 'vcut' on Weverse and Instagram. So, he received cheers from fans.
In addition, V gave fans joy with his lovely appearance, wanting to know about 'Insta sensibility.'
He said, "I'm in quarantine, so I have to play alone for ten days. I uploaded many photos and videos today, so please show me your feed. My acquaintances contacted me and told me to wash my hair and upload something cool," he said, earning love from fans with his charming personality.
BTS V returned from a trip with his family. Then, he posted on Weverse a photo taken while traveling, saying, "Army, thank you for pretending not to know so that I can travel more comfortably. I love you," he said, expressing his gratitude. V expressed his gratitude as he was moved by the hearts of the fans who took care of him so that he could spend time with his family comfortably.
Meanwhile, BTS V surpassed 20 million followers in 28 hours after opening his personal Instagram, increasing the number of followers at the fastest rate globally. BTS V debuted at 16th place in the 'Influencers Top 1000' and recorded the highest ranking among Korean male artists and BTS members.
So, fans responded enthusiastically, saying, "Taehyung comes every day to share happiness," "Taehyung Kim is a magic tool that smokes from his mouth, a real concept genius," "Taehyung's vcut was always the best," "Taehyung's face is Instagrammable itself," "Taehyung, please give us more vacation," and "There is also an Instagram live."
Read More About: BTS V's Chinese Fans Launch Sinchon Christmas Festival 'Private Zone' To Celebrate V's Birthday
agust d
,
best Kpop girl group
,
best kpop news site
,
best kpopstar
,
breaking news kpop
,
BT21
,
BTS
,
BTS Army
,
BTS BILLBOARD
,
bts butter
,
BTS fancam
,
BTS I'll Be Missing You
,
BTS J-Hope
,
bts jimin
,
bts Jungkook
,
BTS member
,
bts member Jimin
,
BTS member V
,
BTS Members
,
BTS News
,
BTS recent news
,
BTS routine
,
BTS solo songs
,
bts suga
,
BTS trending news
,
BTS UPDATES
,
BTS V
,
daily kpop news
,
Fandom
,
Filter
,
J-hope
,
JIMIN
,
Jin
,
JUNGKOOK
,
Korean celeb news
,
Korean singer
,
Korean singer songwriter
,
KPOP
,
Kpop album
,
Kpop beauty routine
,
Kpop boy group
,
KPOP BTS
,
kpop celebrity news
,
Kpop chart and news
,
Kpop colllaboration
,
KPOP comeback
,
Kpop current news
,
kpop daily news
,
Kpop fashion
,
Kpop girls group
,
Kpop idols
,
Kpop issues
,
Kpop latest news
,
Kpop music chart
,
Kpop news
,
Kpop news articles
,
Kpop news sites
,
kpop news update
,
Kpop recent news
,
Kpop skin care routine
,
Kpop skincare routine
,
KPop trending news
,
KPOPNEWS
,
permission to dance
,
RM
,
Run BTS
,
South Korean singer songwriter
,
SUGA
,
TAEHYUNG KIM
,
the best kpop girl group
,
the best kpop girl group of 2021
,
the best kpop group of 2021
,
the top kpop group
,
top kpop boy group
,
top kpop girl group
,
V
,
weverse magazine