The self-composed song 'Scenery,' which contains the emotions of BTS V, received warm congratulations from fans on the 3rd anniversary of its release.
On January 30, 2019, V released 'Scenery,' which he wrote, composed, and even filmed, through official social media and SoundCloud.
At the Seoul Music Awards that year, V said, "Army, everyone. I've been taking pictures for about five years. All the photos that were on my camera when I took that photo were made by the ARMYs. Those memories, traces, and memories were all made by the ARMYs, so I prepared a present for you."
Fans waited with excitement, guessing whether the gift V prepared was a photo album or a song he composed himself. What V gave as a gift was a self-composed song, 'Scenery.'
It is a serenade he sang to the fans to express his gratitude for everything the fans gave him.
V's self-composed songs feature meaningful lyrics and beautiful melodies that differ from those of BTS' music. In vocals, by implementing an emotional tone with a different singing method, V clearly shows another charm as a solo artist by differentiating it from existing music. In V's self-composed song 'Scenery,' this differentiation begins to be noticeable.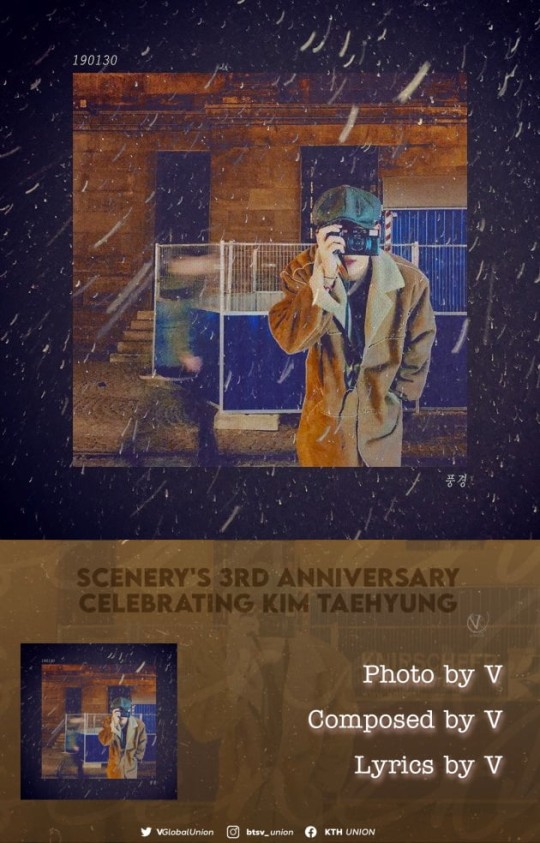 'Scenery' is a synesthetic expression of acoustic sounds such as piano and violin, sound effects such as footsteps, camera shutter sounds, landscape sounds, and railroad crossing sounds. It maximized the delicate and lyrical atmosphere of the song. V's vocals accompanied by breath sounds are processed with a light voice using the head in a significant portion, especially in the high-pitched part, to create emotional vocals that feel resonant.
After the release of 'Scenery,' the foreign media praised the song. Billboard introduced 'Scenery' and evaluated, "V's solo song 'Scenery' is very beautiful and captivating. I am sure that the lyrics will make fans enthusiastic."
'Scenery' was a great success as a song as well as a musical achievement. Within 15 days of its release, it achieved 100 million streams in the shortest period in Kpop history on SoundCloud. It is currently enjoying a hot love with over 202 million streams.
Meanwhile, BTS V's Korean fan page donated to the Babsang Community Briquette Bank to celebrate the 3rd anniversary of 'scenery.'
Read More About: BTS Jungkook Exudes His Fresh & Sweet Charm, Through The Xylitol Photo AD
agust d
,
best Kpop girl group
,
best kpop news site
,
best kpopstar
,
breaking news kpop
,
BT21
,
BTS
,
BTS Army
,
BTS BILLBOARD
,
bts butter
,
BTS fancam
,
BTS I'll Be Missing You
,
BTS J-Hope
,
bts jimin
,
bts Jungkook
,
BTS member
,
bts member Jimin
,
BTS member V
,
BTS Members
,
BTS News
,
BTS recent news
,
BTS routine
,
BTS solo songs
,
bts suga
,
BTS trending news
,
BTS UPDATES
,
BTS V
,
daily kpop news
,
Fandom
,
Filter
,
J-hope
,
JIMIN
,
Jin
,
JUNGKOOK
,
Korean celeb news
,
Korean singer
,
Korean singer songwriter
,
KPOP
,
Kpop album
,
Kpop beauty routine
,
Kpop boy group
,
KPOP BTS
,
kpop celebrity news
,
Kpop chart and news
,
Kpop colllaboration
,
KPOP comeback
,
Kpop current news
,
kpop daily news
,
Kpop fashion
,
Kpop girls group
,
Kpop idols
,
Kpop issues
,
Kpop latest news
,
Kpop music chart
,
Kpop news
,
Kpop news articles
,
Kpop news sites
,
kpop news update
,
Kpop recent news
,
Kpop skin care routine
,
Kpop skincare routine
,
KPop trending news
,
KPOPNEWS
,
permission to dance
,
RM
,
Run BTS
,
South Korean singer songwriter
,
SUGA
,
TAEHYUNG KIM
,
the best kpop girl group
,
the best kpop girl group of 2021
,
the best kpop group of 2021
,
the top kpop group
,
top kpop boy group
,
top kpop girl group
,
V
,
weverse magazine