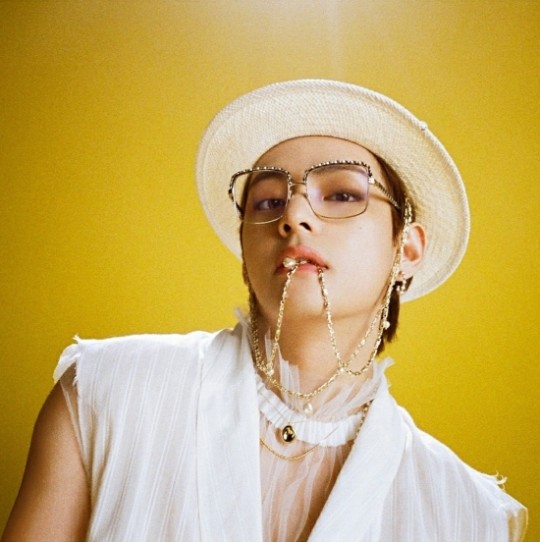 BTS V showed off his pictorial craftmanship by perfectly pulling off too much fashion with his glamorous features.
At midnight on May 17th, BTS released the second concept teaser photo of the new digital single 'Butter.' The release of the group photo and the second individual photo cut further raised the fans' expectations for 'Butter.'
V is wearing a pearl-decorated gold double chain strap botter hat, bling-bling, twinkle square sunglasses, ring earrings with jewelry, and lace choker decorated with colorful white mesh in his individual photo. Also, he completed his look with his sleeveless white V-neck top.
Though BTS V wore too much accessories, we cannot deny the fact that the most spectacular of all was his face.
In addition, V's genius sense of using props in the photo taken with the pearl decoration of the hat strap chain in his mouth while looking down stands out.
BTS will release an official music video teaser for 'Butter' on May 19th. They will simultaneously release 'Butter' worldwide on May 21st. 'Butter' is a summer song with a bright and cheerful atmosphere based on dance pop that contains the charm of BTS.
Read More About: BTS: The Difference Between 'Dynamite' and 'Butter'
2021 kpop updates
,
BTS
,
bts butter
,
BTS News
,
BTS today
,
bts trending
,
BTS UPDATES
,
BTS V
,
bts_butter
,
BTSTREND
,
butter
,
Group BTS
,
KIM TAEHYUNG
,
Kim Taeyung
,
KPOP
,
Kpop 2021
,
Kpop artist
,
Kpop artists
,
KPOP BTS
,
Kpop news
,
Kpop trend
,
Kpop trending
,
KPop trending news
,
Kpop trending now
,
kpop trending update
,
Kpop_BTS
,
KPOP2021
,
KPOPIDA
,
KPOPNEWS
,
Trending
,
trending 2021
,
trending kpop
,
Trending Kpop news
,
trending kpop update
,
trending news
,
trending update kpop