BTS V appeared in a video celebrating the 10th debut anniversary of actor Seojoon Park, who is his best friend. Their friendship shined the most.
V appeared in a video in Seojoon's non-face-to-face fan meeting 'Park Seojoon, Comma' aired on Kakao TV on May 15th. In the video, he said, "I'm Seojoon Park's friend, BTS V. I heard that you prepared a lot. Don't be nervous, and I hope you can spend precious memories with a trembling heart."
BTS V then cheered Seojoon Park with a thumbs up pose then said, "Fighting."
V appeared wearing a simple black T-shirt with a naturally flowing hairstyle. His arms, strengthened by exercise, and his handsome face that shined caught the viewers' eyes.
Seojoon Park appeared in the fan meeting wearing a purple jacket. The broadcast subtitles were written in purple, reminding V's 'Borahae' meaning 'Let's Love forever.' It only shows their unconditional friendship.
V, along with Seojoon Park, Woosik Choi, Hyungsik Park, and Peakboy, is the 'Wooga Squad,' which means 'Are we family?' They are living like a family and sharing hot friendships.
Also, in the Hyungsik Park's fan meeting in 2017, BTS V said, "He is an angel who lost his wings. Thank you for caring me. I want to follow you as my example." He expressed his gratitude and love for his friend, Hyungsik.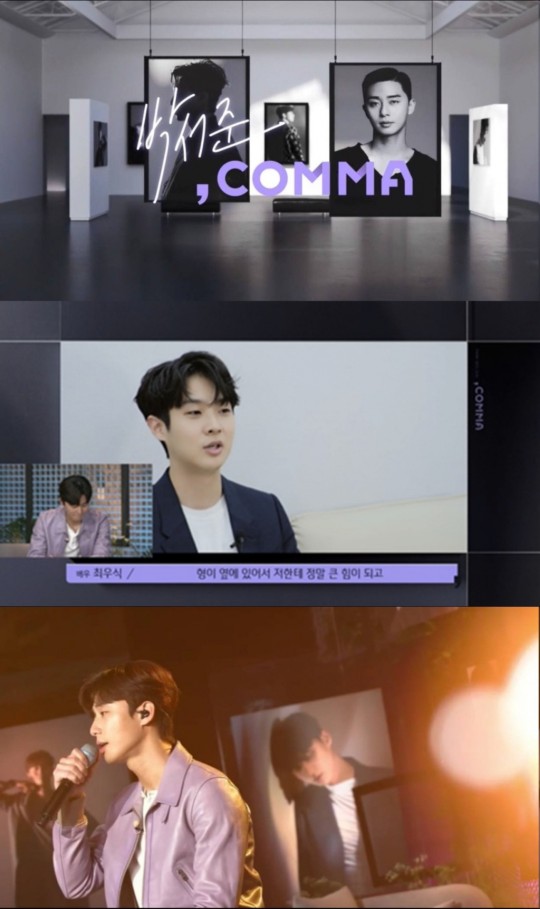 In fact, Seojoon Park, Hyungsik Park, and BTS V met in the 2016 KBS 2TV drama 'Hwarang.'
Now, they are strong brothers and friends. They support each other despite their different fields.
Also, V left a humorous message when 'Parasite' starring Woosik Choi won awards in four categories. It includes the Director's Award at the Academy Awards. In the entertainment program where Woosik Choi appeared, there was a surprise appearance of a video call with V and a scene proudly introducing V, which delighted fans.
Peakboy and BTS V worked together on the song 'Snow Flower,' released as a Christmas present to fans last year. Until now, BTS V and Peakboy are also interacting as musicians.
In addition, another best friend of V, Bogum Park, gave joy to fans with his cover dance of BTS' 'Boy With LUV.' It is during his overseas fan meeting. Bogum Park said he learned how to dance when he met V in Busan, showing a beautiful friendship.
As time passes, fans send infinite support for their friendship that becomes more mature and deeper as they depend on each other.
Read More About: BTS V Showed Off His Unique Visual And Overwhelming Charisma
2021 kpop news
,
2021 kpop news updates
,
2021 kpop updates
,
BTS
,
BTS News
,
BTS today
,
bts trending
,
BTS UPDATES
,
BTS V
,
BTS_V
,
BTSTREND
,
Group BTS
,
Kim Taeyung
,
KPOP
,
Kpop 2021
,
Kpop artist
,
Kpop artists
,
KPOP BTS
,
Kpop idols
,
Kpop news
,
Kpop trend
,
Kpop trending
,
KPop trending news
,
Kpop trending now
,
Kpop_BTS
,
KPOP2021
,
Kpopall
,
KPOPIDA
,
KPOPNEWS
,
Trending
,
trending 2021
,
trending kpop
,
Trending Kpop news
,
trending kpop update
,
trending news
,
trending update kpop
,
v bts