BTS V captured the hearts of the fans with his sweet life acting in the behind-the-scenes of the their commercial filming.
On the 6th of May, Coway, where BTS is active as a brand model, unveiled the behind-the-scene filming of the advertisement shooting of BTS' with 'Icon Water Purifier' on its official YouTube channel.
Like an advertisement for home appliances, BTS V appeared, presenting everyday excitement, revealing his strong presence. BTS V showed his excellent features with his forehead-exposed hairstyle. Then, he completed his great appearance with a shirt, showing his handsomeness. And, as soon as he appeared, there's an affectionate caption, saying, "The appearance of the world's number one handsome man." So, it attracts the attention of the fans.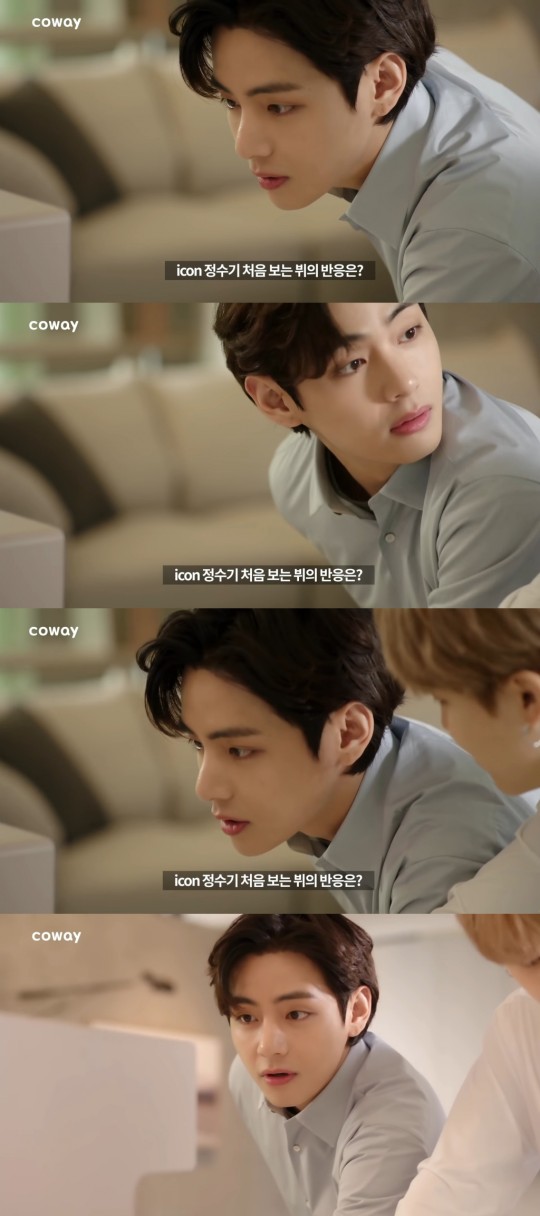 As the filming began in earnest, BTS V attracted attention after seeing the Icon Water Purifier. It boasts a clean and compact design. Besides, his sweet and soft voice, reading the lines in the advertisement, delights the ears and eyes of fans. Also, the appearance of BTS V, who smiles brightly even during repeated filmings, evoked warmth enough to make the viewers smile.
As a result, BTS V gave a wonderful appearance, which is enough to be admired just by drinking water. The screen shows V's face, who drinks water with his attractive black hair and pointed nose under his dark eyebrows. So, it makes fans excited. Even when drinking water, his sculpture-like face received praises such as, "Complete with a cool cut just by drinking water."
BTS V fans say, "The water purifier advertisement is so exciting that my heart is overwhelmed."
"Even his image of drinking water looks like a movie."
"Art because the statue drinks water."
"So cute and your voice beats my heart!"
"I think I should go to buy Coway water purifier right now."
"Will you give me V if I buy a water purifier?"
"BTS V is guilty of stealing my heart," and other hot reactions.
[COWAY x BTS] Coway Icon Water Purifier Making Film, COWAY
Read More About: BTS V Ranked 1st in The Idol Ranking 'Choeaedol'
BTS
,
BTS Army
,
BTS News
,
BTS today
,
BTS UPDATES
,
BTS V
,
BTS_V
,
BTSTREND
,
COWAY
,
Group BTS
,
Kim Taeyung
,
KPOP
,
Kpop 2021
,
Kpop artist
,
Kpop artists
,
KPOP BTS
,
Kpop idols
,
Kpop news
,
Kpop trend
,
Kpop trending
,
KPop trending news
,
Kpop trending now
,
Kpop_BTS
,
KPOP2021
,
Kpopall
,
KPOPIDA
,
KPOPNEWS
,
Kpopstars
,
Trending
,
trending 2021
,
trending kpop
,
Trending Kpop news
,
trending kpop update
,
trending news
,
trending update kpop