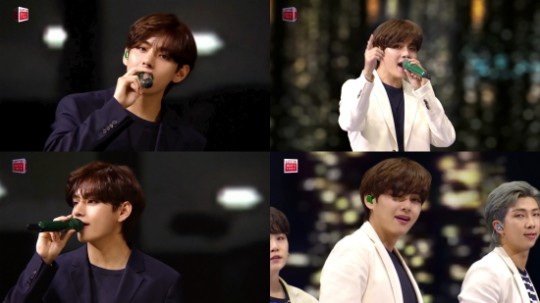 BTS V warmed the hearts of global fans with his perfect appearance and stage manners.
On May 16th, BTS performed at the '31st Family Concert' hosted by Lotte Duty Free.
In the first performance with the song, 'Life Goes On,' V showed off his charm with a medium-low voice that seemed to relax his mind. In this song, which has a static atmosphere without any fancy choreography, fans cheered V for his perfect live performance as if he had chewed on a CD.
BTS V showed off a calm yet sophisticated look by matching a black T-shirt with a navy-tone suit.
Fans praised his brown-toned shiny hairstyle that adds elegance to his appearance.
In the second song 'The Most Beautiful Moment In Life,' V received a lot of love. He showed how he enjoyed the rhythm properly throughout the performance.
V's live performance, which seemed to play rhythmically with powerful vocals but remained steady, was perfect.
BTS V felt surprised that he played his part perfectly, which the members mentioned as difficult. He did his part as if he had left his body to the rhythm with a long breath.
In their last performance with the song, 'Dynamite,' BTS showed a wide range vocal power by freely crossing high and low notes, despite their hype movements.
Particularly, BTS V showed off his natural acting expression, capturing the eyes and ears of global fans.
After the opening song, V said, "I miss ARMY all over the world. I'll be waiting for the day we can meet again. I'll try to show you a better performance." He is expressing his affection and longing for the fans, giving them a deep impression.
Read More About: Taemin 'Advice' Topped iTunes Top Album Chart Worldwide
BTS
,
BTS Army
,
BTS News
,
BTS songs
,
BTS today
,
bts trending
,
BTS UPDATES
,
BTSTREND
,
Group BTS
,
KPOP
,
Kpop artist
,
Kpop artists
,
KPOP BTS
,
Kpop idols
,
Kpop news
,
Kpop trend
,
Kpop trending
,
KPop trending news
,
Kpop trending now
,
kpop trending update
,
Kpop_BTS
,
KPOP2021
,
KPOPIDA
,
KPOPNEWS
,
Trending
,
trending 2021
,
trending kpop
,
Trending Kpop news
,
trending kpop update
,
trending news
,
trending update kpop