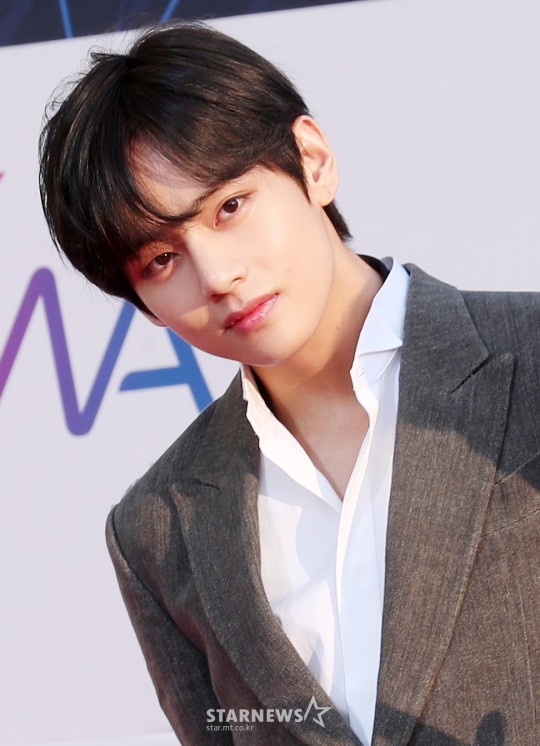 BTS V ranked first in Japan's popularity voting rankings one after another, showing his unrivaled popularity.
V topped the 'KPOP Idol Popularity Voting Ranking' on 'KPOP JUICE,' a popular website that deals with popularity rankings and audition information of KPOP idols in Japan.
BTS V boasted extraordinary popularity by taking first place in the daily ranking on June 12th and the weekly ranking. This is the result of the voting from June 6 to 12. It also includes the monthly ranking in June and the overall voting ranking.
BTS V not only took first place in the Twitter and 'Like' rankings but also showed off his status in Japan. It is by taking the top spot in the rankings by period and index.
V's run for number one in Japan's famous rankings continues.
In the 1st week of June, V took first place on the 'KPOP Male Idol Ranking' of the Japanese ranking site 'Nehan.'
He is setting a record for 10 consecutive weeks.
During the same period, V also won with 14,026 votes in the 'Top 20 Korean Actors.'
It is through the ranking of 'Bihan,' a popular ranking site for Japanese Korean actors. He ranked first for 6 weeks in a row.
Also, BTS V took second place in the overall ranking of actors. Considering that 'Hwarang' is the only work in which V appeared as an actor, we can see how Japanese fans look up to V as an actor.
In addition, V ranked first in 'Japan's Most Popular Korean Male Idol' on 'Ranking.net.'
It is a popular Japanese voting site that reflects real-time trends.
Besides, he took the top spot in 'The most handsome Korean idol,' 'Favorite BTS' Member,' and 'The most handsome BTS member' rankings.
Previously, JJ, a Japanese fashion and lifestyle magazine, selected V as one of the TOP 3 handsome actors in K-drama. And, '25ans,' a fashion magazine, selected V along with Hyun Bin, Seojoon Park, and Eunwoo Cha. They are the 'Face Genius Kings Of Hallyu (Korea).'
It has been selected as the leader of the 4th Korean wave, raising expectations.
Read More About: What If BTS And IU Cards Come Out? The Era Of PLCCs
2021 kpop
,
2021 kpop news
,
2021 kpop news updates
,
2021 kpop updates
,
2021 news kpop
,
2021 updates on kpop
,
BTS
,
bts 2021
,
BTS News
,
BTS today
,
BTS UPDATES
,
BTS V
,
BTS_V
,
BTSTREND
,
Group BTS
,
KIM TAEHYUNG
,
Kim Taeyung
,
KPOP
,
Kpop 2021
,
Kpop artist
,
Kpop artists
,
KPOP BTS
,
Kpop idols
,
Kpop news
,
Kpop trend
,
Kpop trending
,
KPop trending news
,
Kpop trending now
,
Kpop_BTS
,
KPOP2021
,
Kpopall
,
KPOPIDA
,
KPOPNEWS
,
trending 2021
,
trending kpop
,
Trending Kpop news
,
trending kpop update
,
trending update kpop