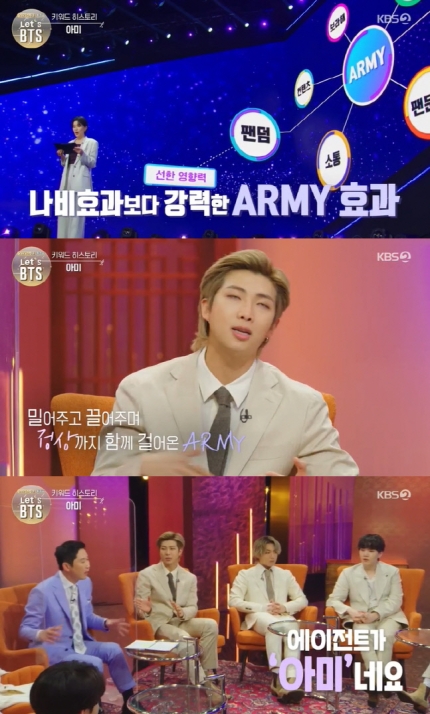 BTS, Korean world-class idols, spoke about their fandom, 'ARMY.'
On the 29th, aired the KBS2 special talk show 'Let's BTS.'
At the time finding out about the group's keywords, they talked about their fandom.
MC Dongyeop Shin said, "It seems that the bond with ARMY is different."
Then RM responded, "It feels like we started together from the bottom. So the power of making things together might be possible." Accordingly, Dongyeop Shin concluded, "the agent is an ARMY."
Meanwhile, 'Let's BTS' is a 100-minute talk show about the sincere story of the members. It is a special VCR with lots of affection and a stage of warm emotion.
BTS Shared Their Thoughts On 'Let's BTS'
Jin Received Comfort With Their Song 'Fire'
BTS
,
BTS Army
,
BTS News
,
BTS today
,
BTS UPDATES
,
BTSTREND
,
Group BTS
,
Kpop artist
,
KPOP BTS
,
Kpop news
,
Kpop trending
,
KPop trending news
,
Kpop_BTS
,
KPOP2021
,
KPOPIDA
,
KPOPNEWS
,
let's bts
,
Trending
,
trending 2021
,
trending kpop
,
Trending Kpop news
,
trending kpop update
,
trending news
,
trending update kpop