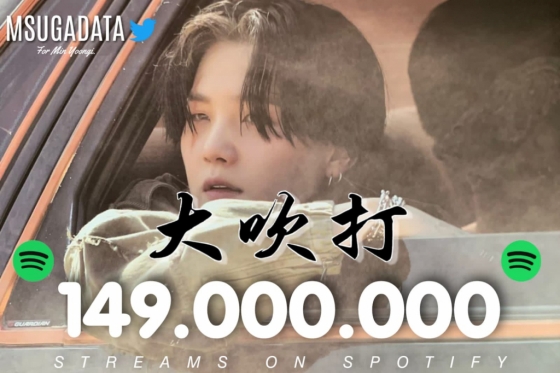 BTS member Suga's 'Daechwita, released under the name 'Agust D,' is on the verge of achieving a milestone on Spotify, the world's largest music platform.

Suga's second mixtape 'D-2' title song 'Daechwita,' released on May 22 last year, surpassed 149 million streams on Spotify on November 11 (Korea Standard Time). Daechwita raised fans' expectations by predicting the achievement of a 150 million streaming milestone very soon.

Suga is writing a spectacular record under the name Agust D' with 'Daechwita.'

The music video of 'Daechwita' achieved 312 million views on YouTube on November 11 (Korea Standard Time). It is the first and most record-breaking music video released by Suga under the name Agust D.

Suga (or Agust D) previously joined the ranks of Kpop solo artists with 360 million views on YouTube alongside EXO's Chanyeol, Psy, and BTS co-member J-Hope.

'Daechwita' created a different atmosphere by sampling traditional marching music. BTS Suga's storytelling, who is also a king in the music video, is attracting attention.
Read More About: BTS Suga's 'Daechwita' MV Hits 312 Million Views
2021 kpop news
,
2021 kpop news updates
,
2021 news kpop
,
best kpop news site
,
BTS
,
BTS Army
,
BTS BILLBOARD
,
bts butter
,
BTS J-Hope
,
bts jimin
,
bts Jungkook
,
BTS member Suga
,
BTS News
,
BTS recent news
,
bts suga
,
BTS today
,
bts trending
,
BTS trending news
,
BTS UPDATES
,
BTS V
,
BTS_SUGA
,
BTSTREND
,
daily kpop news
,
Group BTS
,
Korean celeb news
,
KPOP
,
Kpop artist
,
KPOP BTS
,
kpop celebrity news
,
kpop daily news
,
Kpop idols
,
Kpop latest news
,
Kpop news
,
kpop news update
,
Kpop recent news
,
kpop suga
,
Kpop trending
,
KPop trending news
,
Kpop_BTS
,
KPOP2021
,
KPOPIDA
,
KPOPNEWS
,
Kpopnews 2021
,
Kpopnews2021
,
latest kpop news
,
recent kpop news
,
Run BTS
,
SUGA
,
Trending Kpop news
,
trending news