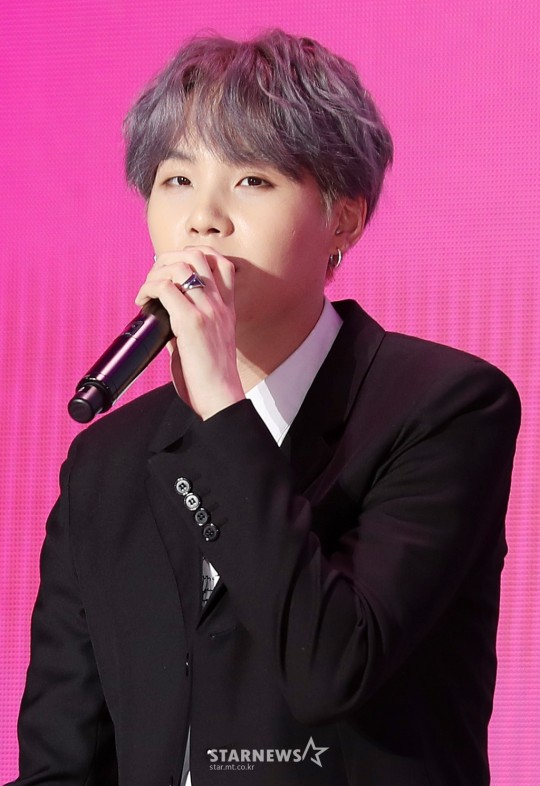 BTS Suga's practices and actions to support women and victims of abuse attracts attention once again.
Suga has been wearing a special brand of accessories for every event, such as a BTS fan signing event or album release showcases.
This brand is Marymond. It is a fashion and accessory brand to help women in Asian countries who were victims of abuse after the Japanese during World War II.
At a fan signing event for BTS a few years ago, Suga attracts attention by using this brand's mirror. The mirror features purple flowers, large green leaves, and a black background.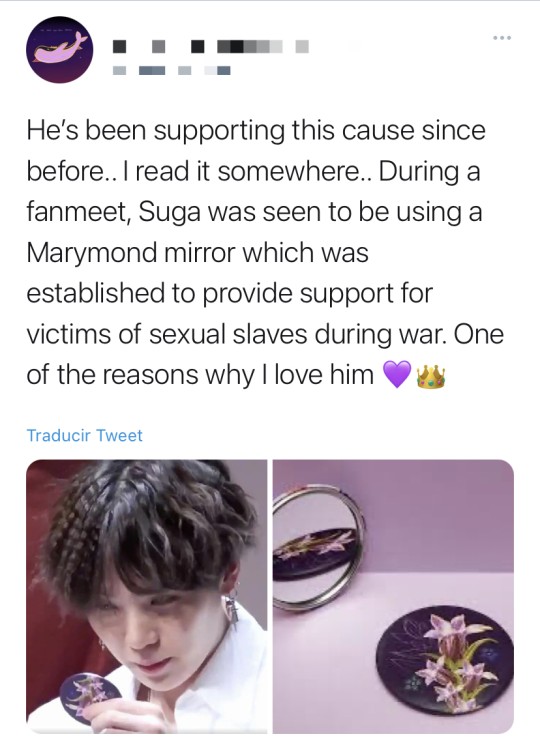 Also, at the BTS concert, he wore a red bracelet with a silver flower shape, one of the Marymond collections.
Marymond is donating every year intending to promote the lives of Japanese military comfort women survivors. The brand has been working with the survivors to solve the Japanese military comfort women issue justly. They want to create a peaceful world that the survivors longed for. The donations are used to support victims of sexual violence during war, support scholarship projects, and support welfare projects for companions.
Fans who inherit BTS Suga's good influence are practicing donations and sharing for neighbors in need. Like Marymond accessories, they are reaching out to help achieve justice through good practices and actions.
Read More About: CJ Cultural Foundation, Tune-up Stage 'OH! SUMMER!' Reveals Lineup
2021 kpop
,
2021 kpop news
,
2021 kpop news updates
,
2021 kpop updates
,
2021 news kpop
,
2021 updates on kpop
,
BTS
,
BTS Army
,
BTS News
,
bts suga
,
BTS today
,
bts trending
,
BTS UPDATES
,
BTS_SUGA
,
BTSTREND
,
Group BTS
,
KPOP
,
Kpop 2021
,
Kpop artist
,
Kpop artists
,
KPOP BTS
,
Kpop idols
,
Kpop news
,
Kpop trend
,
Kpop trending
,
KPop trending news
,
Kpop trending now
,
Kpop_BTS
,
KPOP2021
,
Kpopall
,
KPOPIDA
,
KPOPNEWS
,
Kpopnews2021
,
SUGA
,
trending 2021
,
trending kpop
,
Trending Kpop news
,
trending kpop update
,
trending update kpop