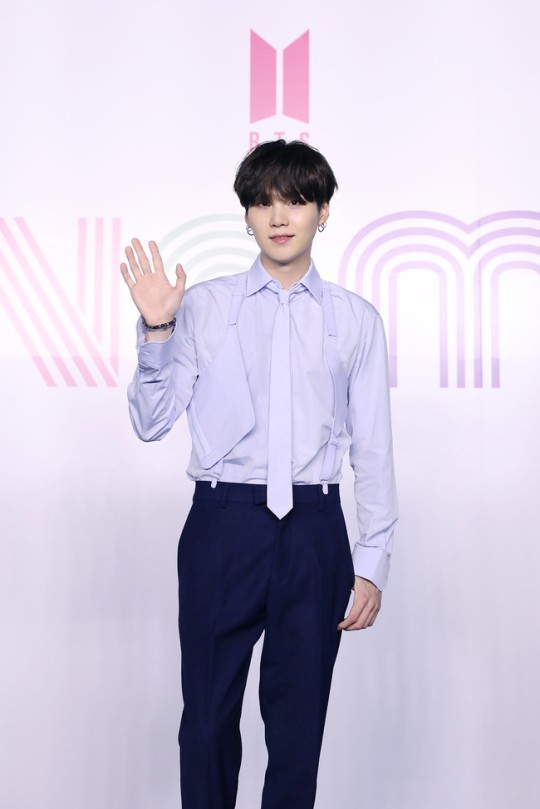 Suga, a Kpop group BTS member, will participate in the new album of Juice WRLD, a singer from the US. On December 9, Juice WRLD's official social media posted the teaser and tracklist of the new album 'Fighting Demons,' set for release on December 10.
According to the released tracklist, Suga participated in the track 'Girl of My Dreams.'
The collaboration between Suga and Juice WRLD is the second. Earlier, BTS, which Suga belongs to, worked together with Juice WRLD for the game 'BTS WORLD' OST 'All Night,' released on June 21, 2019.
Unfortunately, Juice WRLD died on December 8, 2019, at the age of 21.
Juice WRLD is a rapper who ranked second on the US Billboard chart with 'Lucid Dreams' in 2018. He received the Top New Artist Award (Rookie of the Year award) at the 2019 US Popular Music Awards Billboard Music Awards.
Even after his death, the songs he has worked on during his lifetime have been released one after another, which fans worldwide loved. In November last year, he won the 'Rap/Hip-Hop Male Artist Award' at the American Music Awards.
Suga made his debut as a BTS member in 2013. The public recognized him for his outstanding musicality. He is steadily working as a lyricist, composer, and producer in addition to the BTS albums and singles. Fans also called him 'Min PD' (real name Yoongi Min + producer).
Suga has collaborated with Suran for her single 'If I Get Drunk Today' in 2017, Sora Lee's single 'Song Request' in 2019, and Epik High's album 'Sleepless in ______________' sidetrack 'Eternal Sunshine.'
Also, Suga worked with Heize on her single 'We Don't Talk Together,' American singer Halsey's 'SUGA's Interlude,' IU's single 'Eight' in 2020, and American singer Max's 'Blueberry Eyes.'
This year, BTS Suga participated in Japanese singer Hiroomi Tosaka's single 'You.'
In addition, BTS Suga released his first mixtape, 'Agust D' in 2016 and his second mixtape, 'D-2' last year. He is establishing a unique music world as a solo singer-songwriter under the name of Agust D.
Read More About: BTS Performed 'Butter' At The 1000th Special Episode Of 'The Late Late Show With James Corden'
actress IU
,
agust d
,
best Kpop girl group
,
best kpop news site
,
best kpopstar
,
breaking news kpop
,
BT21
,
BTS
,
BTS Army
,
BTS BILLBOARD
,
bts butter
,
BTS fancam
,
BTS I'll Be Missing You
,
BTS J-Hope
,
bts jimin
,
bts Jungkook
,
BTS member
,
bts member Jimin
,
BTS member V
,
BTS Members
,
BTS News
,
BTS recent news
,
BTS routine
,
BTS solo songs
,
bts suga
,
BTS trending news
,
BTS UPDATES
,
BTS V
,
daily kpop news
,
Fandom
,
Filter
,
Hip-hop Idol JIN
,
IU
,
IU news
,
iu songs
,
iu tv
,
IU updates
,
iu works
,
J-hope
,
Jieun Lee
,
JIMIN
,
Jin
,
JIN news
,
JUNGKOOK
,
Korean celeb news
,
Korean singer
,
Korean singer songwriter
,
KPOP
,
Kpop album
,
Kpop beauty routine
,
Kpop boy group
,
KPOP BTS
,
kpop celebrity news
,
Kpop chart and news
,
Kpop colllaboration
,
KPOP comeback
,
Kpop current news
,
kpop daily news
,
Kpop fashion
,
Kpop girls group
,
kpop idol JIN
,
Kpop idols
,
Kpop issues
,
Kpop IU
,
Kpop latest news
,
Kpop music chart
,
Kpop news
,
Kpop news articles
,
Kpop news sites
,
kpop news update
,
Kpop recent news
,
Kpop skin care routine
,
Kpop skincare routine
,
KPop trending news
,
KPOPNEWS
,
permission to dance
,
RM
,
Run BTS
,
singer IU
,
Singer JIN
,
South Korean singer songwriter
,
SUGA
,
TAEHYUNG KIM
,
the best kpop girl group
,
the best kpop girl group of 2021
,
the best kpop group of 2021
,
the top kpop group
,
top kpop boy group
,
top kpop girl group
,
V
,
weverse magazine