BTS member Suga (also know as Agust D)'s 'Daechwita' music video achieved a new number of views and continued its popularity.
The music video for the title song 'Daechwita' of the mixtape 'D-2,' released on May 22 last year, surpassed 275 million views on YouTube on August 9th (KST).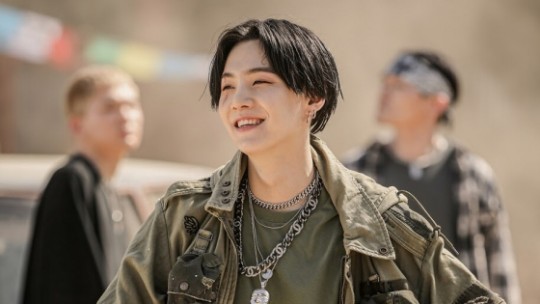 The music video showed global popularity by achieving 11 million likes on June 25. Suga is writing a new world record as a solo artist.
He created a different atmosphere by sampling Daechwita, traditional marching music. In the music video, music fans loved Suga's storytelling as the king, attracting attention.
▶ Agust D 'Daechwita' MV, HYBE LABELS
Read More About: BTS Annual Sales Of 5.7 Trillion Won Is Equivalent To 0.5% Of US Nominal GDP
2021 kpop news
,
2021 kpop updates
,
BTS
,
BTS member Suga
,
BTS News
,
BTS songs
,
bts suga
,
BTS today
,
bts trending
,
BTS UPDATES
,
BTS_SUGA
,
BTSTREND
,
DAECHWITA
,
KPOP
,
Kpop 2021
,
Kpop artist
,
Kpop artists
,
KPOP BTS
,
Kpop idols
,
Kpop news
,
kpop suga
,
Kpop trend
,
Kpop trending
,
KPop trending news
,
Kpop trending now
,
kpop trending update
,
Kpop_BTS
,
KPOP2021
,
Kpopall
,
KPOPIDA
,
KPOPNEWS
,
SUGA
,
Trending
,
trending 2021
,
trending kpop
,
Trending Kpop news
,
trending kpop update
,
trending news
,
trending update kpop