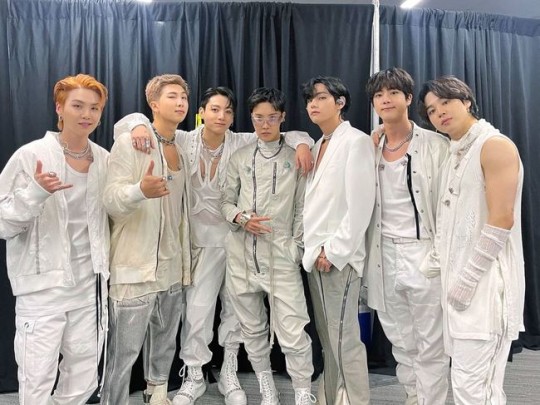 The Kpop group BTS (RM, Jin, Suga, J-Hope, Jimin, V, and Jungkook) successfully wrapped up the first day of their first face-to-face concert after two years. On November 27 (US time) on BTS's official Twitter account, the members posted a photo with the caption, "[Today's BTS] The concert hall full of ARMY's voices? This isn't a dream, right? BTS will be waiting for ARMY here tomorrow, too! See you again, ARMY!"
Also, the released photo shows BTS members dressed in stage costumes. They are in the waiting room of Sofi Stadium in Los Angeles, California, USA, where the concert took place. Standing side by side, the BTS members showed strong loyalty with a pose with their arms around each other's shoulders.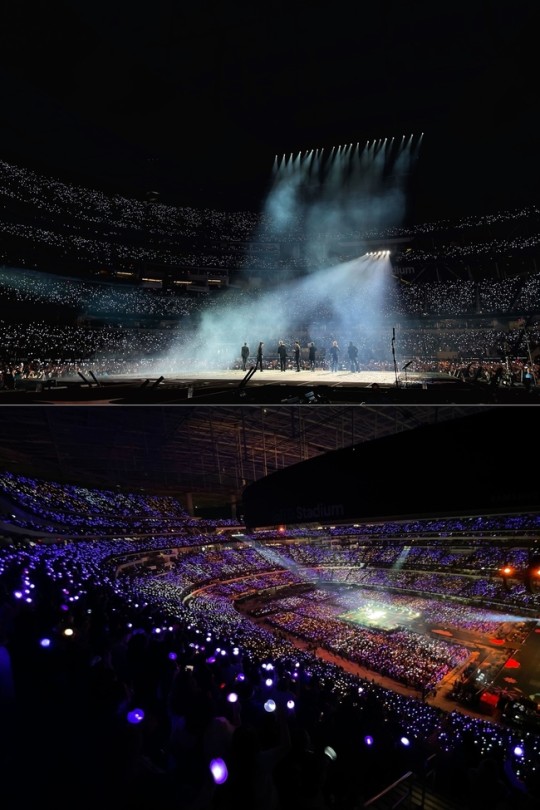 Along with this, the released photo shows a beautiful view of the concert hall colored with purple ARMY Bomb (official lightstick name). BTS attracted about 47,000 spectators with the first performance of its solo concert 'BTS PERMISSION TO DANCE ON STAGE – LA' held at 7:30 pm that day. In fact, the stadium offered additional tickets for limited viewing seats. So, the exact number of spectators will reach about 200,000.
BTS walked around the stage constantly with the determination to repay ARMY for cheering and loving them despite the pandemic. The moment they sang 'Telepathy' and 'Stay,' melted their deep longing for ARMYs that they hadn't seen for a long time due to the COVID-19. The members rode on mobile with wheels and made eye contact with distant ARMYs. Despite high-level performances, they proved to be the most brilliant singer on the stage with their unwavering live performance.
Then, after the performance, BTS shared a group photo with singer Anderson Paak on their official Twitter account. The members said, "Look who we met!" Anderson Paak is a member of the group Silk Sonic to which Bruno Mars belongs.
Anderson Paak also posted photos and videos taken with BTS on his official Instagram, saying, "If you need another member! I work well in groups!!!"
According to the video, Kpop group BTS and Anderson Paak signed each other's albums, building friendships.
Read More About: BTS Fans Color Los Angeles, USA Purple!
agust d
,
best Kpop girl group
,
best kpop news site
,
best kpopstar
,
breaking news kpop
,
BT21
,
BTS
,
BTS Army
,
BTS BILLBOARD
,
bts butter
,
BTS fancam
,
BTS I'll Be Missing You
,
BTS J-Hope
,
bts jimin
,
bts Jungkook
,
BTS member
,
bts member Jimin
,
BTS member V
,
BTS Members
,
BTS News
,
BTS recent news
,
BTS routine
,
BTS solo songs
,
bts suga
,
BTS trending news
,
BTS UPDATES
,
BTS V
,
daily kpop news
,
Fandom
,
Filter
,
Hip-hop Idol JIN
,
J-hope
,
JIMIN
,
Jin
,
JIN news
,
JUNGKOOK
,
Korean celeb news
,
Korean singer
,
Korean singer songwriter
,
KPOP
,
Kpop album
,
Kpop beauty routine
,
Kpop boy group
,
KPOP BTS
,
kpop celebrity news
,
Kpop chart and news
,
Kpop colllaboration
,
KPOP comeback
,
Kpop current news
,
kpop daily news
,
Kpop fashion
,
Kpop girls group
,
kpop idol JIN
,
Kpop idols
,
Kpop issues
,
Kpop latest news
,
Kpop music chart
,
Kpop news
,
Kpop news articles
,
Kpop news sites
,
kpop news update
,
Kpop recent news
,
Kpop skin care routine
,
Kpop skincare routine
,
KPop trending news
,
KPOPNEWS
,
permission to dance
,
RM
,
Run BTS
,
Singer JIN
,
South Korean singer songwriter
,
SUGA
,
TAEHYUNG KIM
,
the best kpop girl group
,
the best kpop girl group of 2021
,
the best kpop group of 2021
,
the top kpop group
,
top kpop boy group
,
top kpop girl group
,
V
,
weverse magazine