Kpop group BTS (Suga, Jin, J-Hope, RM, V, Jungkook, Jimin) succeeded in winning the Grand Prize (Daesang) at 'The Fact Music Awards' for four consecutive years.
The '2021 THE FACT MUSIC AWARDS (TMA)' took place online on the afternoon of October 2 to prevent the spread of COVID-19.
The Fact CEO Sangkyu Kim and Soyeon Kim participated in the grand prize award on this day, and the award goes to the Kpop group BTS.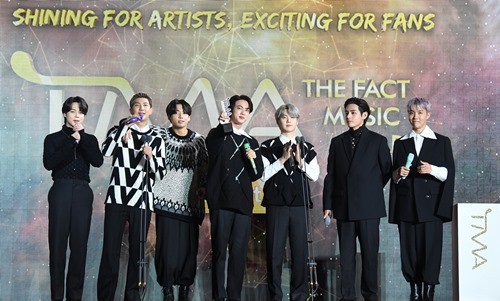 "I had shoulder surgery last year and couldn't participate in the awards ceremony. It's nice to see you. The grand prize, I think ARMY gave it to us. A lot has happened this year," Suga said.
"I'm excited that we'll be able to meet you soon. I hope to meet Korean ARMYs as soon as possible in a situation where we can perform in Korea. I want to meet ARMY around the world," Suga continued.
Then, BTS Jin said, "I want to say I love the Big Hit family. I want to say thank you for always working hard on HYBE. I think Big Hit did a good job. How good are Permission to Dance, Butter, and Dynamite songs? The company has a good hearing. I think I met a good company. Let's be together with ARMY."
agust d
,
best Kpop girl group
,
best kpop news site
,
best kpopstar
,
breaking news kpop
,
BT21
,
BTS
,
BTS Army
,
BTS BILLBOARD
,
bts butter
,
BTS fancam
,
BTS I'll Be Missing You
,
BTS J-Hope
,
bts jimin
,
bts jimin 2021
,
bts Jungkook
,
bts Jungkook 2021
,
BTS member
,
bts member Jimin
,
BTS member V
,
BTS Members
,
BTS News
,
BTS recent news
,
BTS routine
,
BTS solo songs
,
BTS songs
,
bts suga
,
BTS today
,
bts trending
,
BTS trending news
,
BTS UPDATES
,
BTS V
,
BTS_JIMIN
,
BTSTREND
,
daily kpop news
,
Fandom
,
Filter
,
Group BTS
,
J-hope
,
JIMIN
,
jimin bts
,
Jin
,
JUNGKOOK
,
Korean celeb news
,
Korean singer
,
Korean singer songwriter
,
KPOP
,
Kpop album
,
Kpop beauty routine
,
Kpop boy group
,
KPOP BTS
,
kpop celebrity news
,
Kpop chart and news
,
Kpop colllaboration
,
KPOP comeback
,
Kpop current news
,
kpop daily news
,
Kpop fashion
,
Kpop girls group
,
Kpop idols
,
Kpop issues
,
Kpop latest news
,
Kpop music chart
,
Kpop news
,
Kpop news articles
,
Kpop news sites
,
kpop news update
,
Kpop recent news
,
Kpop skin care routine
,
Kpop skincare routine
,
KPop trending news
,
Kpop_BTS
,
KPOPNEWS
,
park jimin bts
,
permission to dance
,
RM
,
Run BTS
,
South Korean singer songwriter
,
SUGA
,
TAEHYUNG KIM
,
the best kpop girl group
,
the best kpop girl group of 2021
,
the best kpop group of 2021
,
the top kpop group
,
top kpop boy group
,
top kpop girl group
,
V
,
weverse magazine