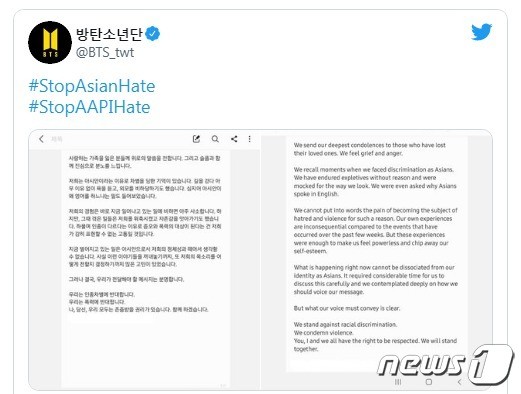 The most retweeted post on Twitter in 2021 was a letter condemning the anti-Asian discrimination and hate crimes of the Kpop group BTS, Twitter announced on December 9.
BTS released a Twitter statement with the title 'Stop Asian Hate' after anti-Asian hate crimes were on the rise in the United States due to the COVID-19 pandemic in March.
The post has been retweeted more than 1 million times and liked by 2.5 million people.
Hate crimes against Asians began shortly after the coronavirus was first reported in China.
Mainly, former US President Donald Trump has promoted anti-Asian crimes by referring to COVID-19 as the 'Chinese virus.'
Since then, anti-Asian crimes have been on the rise in the US. For example, hate crimes against Asians surged from 12 in 2019 to 98 in 2020, according to the Vancouver Police Department, British Columbia, Canada.
BTS said in a Twitter statement, "We have experienced discrimination that has made us powerless and has lowered our self-esteem. We firmly opposed to racism. We condemn violence. You and I and we have the right to be respected. We will work together."
Since then, the public has received the statement well and retweeted it many times.
Read More About: BTS Jimin Emerged As The 'Instagram King!'
agust d
,
best Kpop girl group
,
best kpop news site
,
best kpopstar
,
breaking news kpop
,
BT21
,
BTS
,
BTS Army
,
BTS BILLBOARD
,
bts butter
,
BTS fancam
,
BTS I'll Be Missing You
,
BTS J-Hope
,
bts jimin
,
bts Jungkook
,
BTS member
,
bts member Jimin
,
BTS member V
,
BTS Members
,
BTS News
,
BTS recent news
,
BTS routine
,
BTS solo songs
,
bts suga
,
BTS trending news
,
BTS UPDATES
,
BTS V
,
daily kpop news
,
Fandom
,
Filter
,
J-hope
,
JIMIN
,
Jin
,
JUNGKOOK
,
Korean celeb news
,
Korean singer
,
Korean singer songwriter
,
KPOP
,
Kpop album
,
Kpop beauty routine
,
Kpop boy group
,
KPOP BTS
,
kpop celebrity news
,
Kpop chart and news
,
Kpop colllaboration
,
KPOP comeback
,
Kpop current news
,
kpop daily news
,
Kpop fashion
,
Kpop girls group
,
Kpop idols
,
Kpop issues
,
Kpop latest news
,
Kpop music chart
,
Kpop news
,
Kpop news articles
,
Kpop news sites
,
kpop news update
,
Kpop recent news
,
Kpop skin care routine
,
Kpop skincare routine
,
KPop trending news
,
KPOPNEWS
,
permission to dance
,
RM
,
Run BTS
,
South Korean singer songwriter
,
SUGA
,
TAEHYUNG KIM
,
the best kpop girl group
,
the best kpop girl group of 2021
,
the best kpop group of 2021
,
the top kpop group
,
top kpop boy group
,
top kpop girl group
,
V
,
weverse magazine