BTS appeared on their solo talk show 'Let's BTS' and talked about their each BTS members' impressions.
On the 29th, the members shared their true stories, which filled the 100 minutes of the first public broadcast of the KBS2 talkshow 'Let's BTS.'
In the previous recording, BTS confessed the behind-the-scenes of their solo performance shoot. They did not reveal such anywhere else. The group has the first Korean pop singer nomination and a successful solo stage at the recently held 63rd Grammy Awards.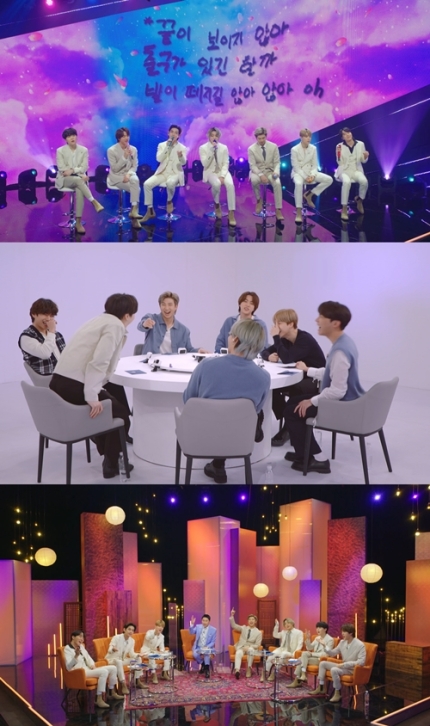 After their Grammy Awards' solo stage performance, the BTS members garnered great praise and attention. They shared the stories of the people behind the secret filming. Also, the positive stories of the people who are not only on the stage but aimed for another goal. The group disclosed that they looked forward to the post-talk after the Grammy Awards.
Also, in the VCR, 'I couldn't convey my sincerity,' which was filmed separately in advance. We shared the sincerity that we could not convey to each other for eight years after our debut. The BTS members had been together for 8 years. But, they still feel embarrassed when sharing their sincerity. I'm curious about the appearance of the group in the VCR, and said, "This is the first time since debut."
Not only the talk but also the stage of their success. Among them, there was a surprise stage created, which the people prepared for a long time. They are carrying out the secret thoroughly from the BTS members. The production crew responded. They said, "The members who noticed late in this recording were surprised and enjoyed the stage of emotion."
Read More About: Learn! KOREAN with BTS' at Prestigious British Universities