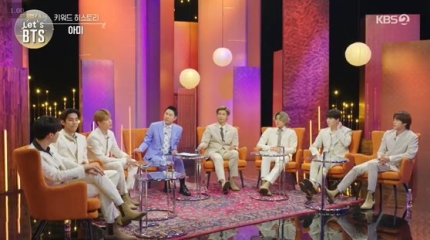 BTS member Suga said that he received comfort through their songs during his difficult times.
On March 29th, KBS2 unfolded 'Let's BTS,' a 100-minute talk show exclusively for BTS. MC Dong-yeop Shin came forward and had a pleasant conversation with BTS. Doyeon Jang appeared to proceed with the corner and introduced BTS.
After looking at BTS's songs so far, RM said, "I think that what's special is what we can do now. We come up with the following concept. I will try to tell stories that we can share with our teens and twenties."
When asked, 'Have you ever been comforted by BTS' songs?'
Suga said, "As our performances got canceled, we feel sad for several months. At that time, the fans heard our music and it comforted them, so I looked for it. Personally, I received a lot of comfort. I first felt this feeling while listening to 'Answer' and 'Paradise.' 
On the other hand, Jimin expressed his love for the fans. He said, "There is a group collection with fans, and I felt comforted by watching such a video."
RM added, "It was possible because of the fans. Of course, some people have become fans recently, but you must have seen all the quirky appearances in the past."

Next, BTS Jin confessed that he likes their song 'Fire.'
Jin said, "I was comforted by the song 'Fire.' There is a lyric that says, "Live your own way. It's yours anyway. Don't try to do it. It's okay to lose."
He said, "I think I changed a lot after listening to the lyrics. I lived without fun because of the burden, but I lived as much as I wanted. In that way, that's the song that changed me the most."
Jimin said, "It will all be the same. Just as the audience and the performers like listening to the songs we sing, we too are comforted by the songs and voices. Fans confessed that our songs are more than any other songs, which comforted them a lot."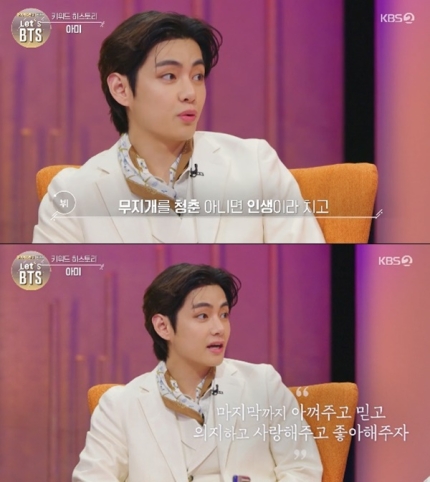 On the other hand, V explained the expression 'Borahae,' which BTS conveys to their fans.
V, the founder of the expression, 'Borahae,' said, "At that time, ARMYs were covering the purple cloth at ARMYBAM, so it looked purple. I suddenly remembered it, but it looked like a rainbow. The rainbow means youth or life, and the last color is purple. So, 'Borahae' means cherishing, believing, loving, and liking until the end. But I said it lightly, and I didn't know it would grow like this."
Jimin said, "It's a pretty word even if we hear it."
Then RM added, "It seems like it's all good because I have this similar feeling even though I love you already."
Read More About: BTS Outing for 'U Quiz' Was Revealed
BTS
,
BTS Army
,
BTS News
,
BTS today
,
bts trending
,
BTS UPDATES
,
BTS V
,
BTS_JIMIN
,
BTS_Lets BTS
,
BTS_RM
,
BTS_SUGA
,
BTSTREND
,
Group BTS
,
KPOP
,
Kpop artists
,
KPOP BTS
,
Kpop trend
,
Kpop trending
,
KPop trending news
,
Kpop trending now
,
KPOP2021
,
KPOPIDA
,
KPOPNEWS
,
Trending
,
Trending Kpop news
,
trending news