HYBE Labels artists dominate the Japanese Oricon charts. According to the 'Annual Ranking 2021' announced by Oricon on December 22, 'BTS, THE BEST' ranked first in the 'Album Ranking,' and Kpop group SEVENTEEN's 'Attacca' and 'Your Choice' ranked 5th and 9th respectively.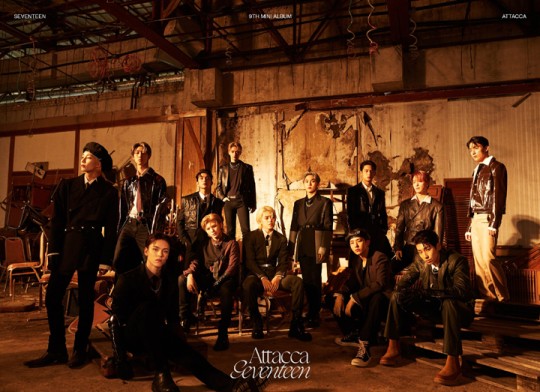 BTS' Japanese best album 'BTS, THE BEST' rose to the top of the 'Annual Ranking' with 993,000 copies and once again added a 'first' record. BTS is the first overseas group to take first place in the annual album category. Also, BTS is the first overseas artist to top the annual ranking after 37 years since Michael Jackson's 'Thriller' in 1984.
The performance of BTS in the Oricon annual ranking was predicted early on. Previously, 'BTS, THE BEST' sold 782,000 copies in the first week. So, they set a new record for the first week of sales by an overseas male artist.
Also, Kpop group SEVENTEEN achieved good results by ranking two albums in the top 10 of the 'Album Ranking.'
SEVENTEEN's 9th mini-album 'Attacca,' released in October, recorded cumulative shipments of more than 250,000 copies per month. It received gold disc 'Platinum' certification from the Recording Industry Association of Japan. Also, it ranked fifth place in the annual album ranking.
In addition, Kpop group SEVENTEEN is the only artist, including local and foreign artists, to have ranked two or more albums in this year's top 10 in the annual album category. Their 8th mini-album, 'Your Choice,' ranked 9th on the list.
In 'Single Ranking,' SEVENTEEN's third Japanese single 'Hitorijanai' sold 420,000 copies and ranked 17th. So, it recorded the highest ranking among Kpop artists' single.
Also, Tomorrow X Together and ENHYPEN performed well in the annual album category. They are strengthening HYBE Labels' overwhelming dominance in the Japanese music market. ENHYPEN's 1st full album 'DIMENSION: DILEMMA,' Tomorrow X Together's first Japanese EP 'Chaotic Wonderland' and 'The Chaos Chapter: 'FIGHT OR ESCAPE' ranked 17th to 19th on the album ranking. As a result, all Kpop artists who ranked 1st to 20th in the annual album category are HYBE Labels artists. They ranked a total of 8 albums, including BTS' 'BE' (11th) and 'Butter' (13th).
Meanwhile, HYBE Labels artists ranked three albums (SEVENTEEN 2, ENHYPEN 1) in the top 100 of 'Yearly Ranking 202.'
Also, they ranked18 albums (BTS 10, SEVENTEEN 2, TOMORROW X TOGETHER 3, ENHYPEN 3) in the top 100 of 'Album Rankings.'
Read More About: BTS Jin, The Beauty That Makes You Want To See The Sunrise In The New Year Together
agust d
,
best Kpop girl group
,
best kpop news site
,
best kpopstar
,
BORDER CARNIVAL
,
border: day one
,
Border: Hakanai
,
breaking news kpop
,
BT21
,
BTS
,
BTS Army
,
BTS BILLBOARD
,
bts butter
,
BTS fancam
,
BTS I'll Be Missing You
,
BTS J-Hope
,
bts jimin
,
bts Jungkook
,
BTS member
,
bts member Jimin
,
BTS member V
,
BTS Members
,
BTS News
,
BTS recent news
,
BTS routine
,
BTS solo songs
,
bts suga
,
BTS trending news
,
BTS UPDATES
,
BTS V
,
daily kpop news
,
DK
,
DRUNK-DAZED
,
ENHYPEN
,
ENHYPEN members
,
Fandom
,
Filter
,
Given-Taken
,
Hoshi
,
J-hope
,
JIMIN
,
Jin
,
JUNGKOOK
,
Korean celeb news
,
Korean singer
,
Korean singer songwriter
,
KPOP
,
Kpop album
,
Kpop beauty routine
,
Kpop boy group
,
KPOP BTS
,
kpop celebrity news
,
Kpop chart and news
,
Kpop colllaboration
,
KPOP comeback
,
Kpop current news
,
kpop daily news
,
kpop Enhypen
,
Kpop fashion
,
Kpop girls group
,
kpop group SEVENTEEN
,
Kpop idols
,
Kpop issues
,
Kpop latest news
,
Kpop music chart
,
Kpop news
,
Kpop news articles
,
Kpop news sites
,
kpop news update
,
Kpop recent news
,
kpop seventeen
,
Kpop skin care routine
,
Kpop skincare routine
,
KPop trending news
,
KPOPNEWS
,
permission to dance
,
ready to love
,
RM
,
Run BTS
,
Seungkwan
,
Seventeen
,
SEVENTEEN members
,
South Korean singer songwriter
,
SUGA
,
TAEHYUNG KIM
,
the best kpop girl group
,
the best kpop girl group of 2021
,
the best kpop group of 2021
,
the top kpop group
,
top kpop boy group
,
top kpop girl group
,
V
,
Vernon
,
weverse magazine
,
Wonwoo
,
Woozi