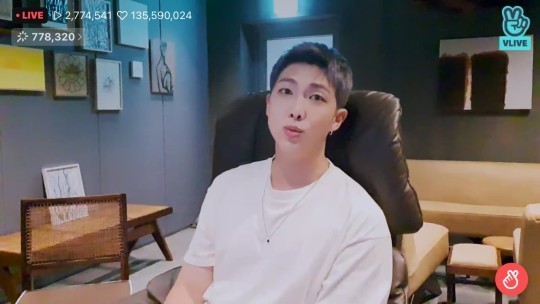 RM, the leader of the group BTS,' thanked fans as the new song 'Butter' ranked first in the Billboard Chart for 7 weeks in a row, saying, "It's amazing."
On the afternoon of July 13th, RM conducted a live broadcast on the official V live channel under the title 'Sudden Live.' He mentioned that 'Butter' is running at number 1 on the Billboard chart, and said, "I'm grateful for no. 1 for 7 straight weeks. Every week we get on no. 1, people congratulate me. But, I don't think I deserve the credit. I'm grateful for so many people. I always thank you for your support."
The single 'Butter' released by BTS on May 21st debuted at No. 1 on Billboard's main singles chart 'Hot 100.' It maintained its position for seven consecutive weeks. There are a total of 54 songs that debuted at number one on the all-time 'Hot 100.' But, only 8 songs, including 'Butter,' have been at the top for 7 weeks in a row.
The longest record in this category is 'One Sweet Day' by American pop star Mariah Carey and vocal group, Boyz II Men between 1995 and 1996. Their song ranked no.1 for 16 weeks in a row.
In addition, BTS RM talked about the back story of 'Butter.' He said, "At first, 'Butter' came with unfinished rap part. So, we wrote the rap part. I got lucky and mine got picked." As we all know, RM is responsible for the rap within BTS.
After releasing the single 'Butter,' BTS released the single CD 'Butter' on July 9th with the new song 'Permission To Dance.' Regarding 'Permission To Dance,' RM said, "We were torn whether to add rap in it or not. But, since it is complete as it is, rap wouldn't fit in it. We wanted to add some rap part, too. But, it would ruin the flow completely. That's why we couldn't add any." He added, "Instead, we sang. It's one key high. I could've sung other parts, too, under the original key. But, it's too high for me. So, we got to work on the part we can be best at. I like my part. Many people love the songs. I am very happy."
Read More About: BTS Jin, The Look That Captivates The Hearts Of Fans
2021 kpop updates
,
BILLBOARD CHART BTS
,
Billboard_BTS
,
BTS
,
BTS BILLBOARD
,
BTS Billboard 200
,
BTS BILLBOARD CHART
,
bts butter
,
BTS News
,
BTS Permission To Dance
,
bts rm
,
BTS songs
,
BTS today
,
bts trending
,
BTS UPDATES
,
bts_butter
,
BTS_Rap Monster
,
BTSTREND
,
butter
,
Group BTS
,
KPOP
,
Kpop 2021
,
Kpop artist
,
Kpop artists
,
KPOP BTS
,
Kpop idols
,
Kpop news
,
kpop rap monster
,
kpop RM
,
Kpop trend
,
Kpop trending
,
KPop trending news
,
Kpop trending now
,
Kpop_BTS
,
KPOP2021
,
Kpopall
,
KPOPIDA
,
KPOPNEWS
,
permission to dance
,
RAP MONSTER
,
treasure debut
,
trending 2021
,
trending kpop
,
Trending Kpop news
,
trending kpop update
,
trending update kpop