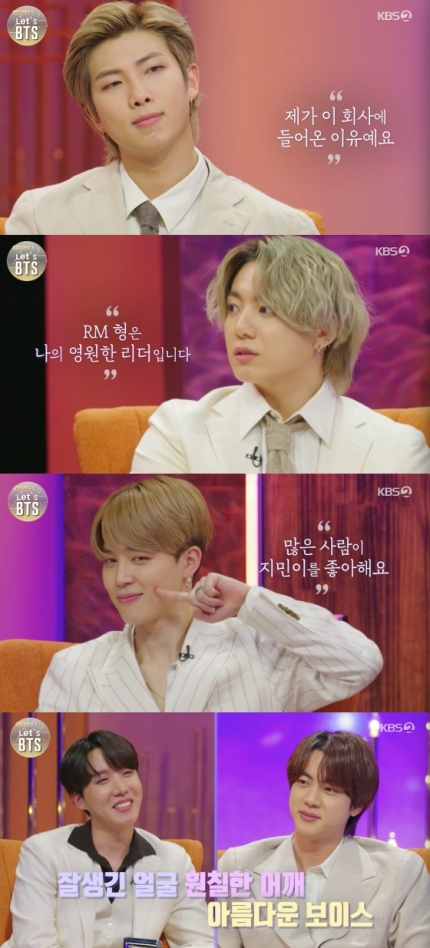 BTS Jungkook shared his thoughts on RM at the 2021 Special Talk Show 'Let's BTS'.
On the 29th, KBS 2TV '2021 special talk show 'Let's BTS' contained a scene where BTS talked about each other.
Jungkook said, "The reason I joined this company is RM. I saw RM rapping, and it was cool. He's a person who deserves to be the leader of BTS, musically and as a person. I hope you will always remain my leader in the future."
Jin said, "Suga has a great passion for music. He turned his hobbies and all of his life into music. He thinks that if he were a singer or a composer, what can he do?' RM said, "To explain, Jimin, you can stay up all night. Just a crush. He is a friend. Many people like Jimin. He is altruistic in nature. Jimin has a talent for caring for others and teams and possessing people. He is an all-round idol."
Jimin said, "As you can see, V is handsome. When I first saw him, I felt that he's a unique, playful cartoon character. But in a way, he is the most human person among us. Honest and consistent."
V said, "J-Hope is a person who doesn't change. He's always grateful for what he's been given. He's the best. I haven't seen anyone nicer than this person. The thing that feels coolest is a person who cares for others. Jin is my eldest brother, and he has no hierarchical order and leads the team's atmosphere.
ambassador bts
,
Army
,
army bts
,
BTS
,
bts active
,
BTS Army
,
bts jimin
,
bts jimin 2021
,
bts jimin birthday
,
bts jimin cute
,
bts jimin height
,
bts jimin tattoo
,
bts jimin wallpaper
,
bts jin
,
bts Jungkook
,
bts Jungkook 2021
,
bts Jungkook birthdayKpopnews
,
bts Jungkook height
,
bts Jungkook tattoo
,
bts Jungkook wallpaper
,
bts kpop
,
bts movement
,
bts rm
,
bts tv program
,
BTS V
,
jimin bts
,
jin bts
,
KPOP
,
Kpop artist
,
Kpop artists
,
Kpop boy group
,
Kpop boy idols
,
KPOP BTS
,
Kpop hottest singer
,
Kpop idols
,
Kpop issues
,
Kpop news
,
Kpop trending
,
Kpop websites
,
KPOP2021
,
KPOPIDA
,
kpopstar bts
,
Kpopstars
,
let's bts
,
park jimin bts
,
park Jungkook bts
,
rm bts
,
Trending Kpop news
,
v bts