Kpop group BTS' 'Butter' retakes 1st place on the US Billboard 'Hot 100' again. 'Butter' also topped the 'Song of the Summer' chart and became the best summer song of 2021.
According to the latest chart released on September 8th by Billboard, an American music media, 'Butter' again climbed to No. 1 on the main single chart 'Hot 100.'
Since 'Butter' entered the charts on June 5th, it has maintained the number one position for seven consecutive weeks. It returned to the top in the 15th week of its release, reaching the top for the 10th time in its career. 'Butter,' which broke its own record for the most number 1 positions on the 'Hot 100' chart this year, became the 40th single in Billboard's 63-year history to occupy the top spot for more than 10 weeks.
'Butter' remix featuring Megan Thee Stallion, released on August 27th, ranked 3rd on the 'Billboard Global 200' and 'Billboard Global (excluding the US)' charts. This chart compiled streaming and sales volume in more than 200 countries/regions around the world.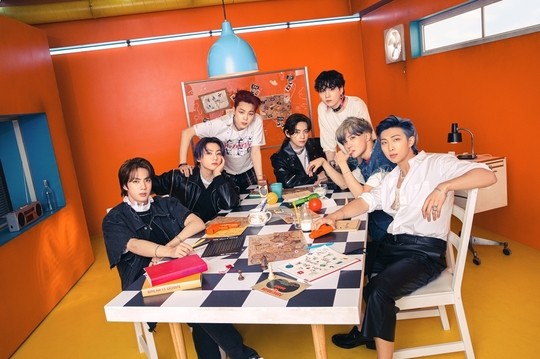 Kpop group BTS 'Butter' also ranked first in 'Song of the Summer' for 12 consecutive weeks, aggregating the number of streaming, radio broadcasts, and music sales. Keeping it up, 'Butter' became the 'Song of the Summer' in 2021.
US Billboard releases 'Song of the Summer' every year. The songs that have reached the top spot include 'Despacito' by Luis Fonsi, Daddy Yankee, and Justin Bieber, 'Call Me Maybe' by Carly Rae Jepsen, and 'Umbrella' by Rihanna and Jay Z.
BTS' 4th full-length album 'MAP OF THE SOUL: 7,' released in February last year, ranked 128th on the main album chart 'Billboard 200' and maintained the chart for 80 weeks.
Read More About: BTS: Will They Be Exempted From Military Service?
billboard
,
Billboard 200
,
BILLBOARD CHART BTS
,
Billboard hot 100
,
Billboard_BTS
,
BTS
,
BTS Army
,
BTS BILLBOARD
,
BTS Billboard 200
,
BTS BILLBOARD CHART
,
bts butter
,
BTS News
,
BTS songs
,
BTS today
,
bts trending
,
BTS UPDATES
,
bts_butter
,
BTSTREND
,
butter
,
Group BTS
,
Kpop artist
,
Kpop artists
,
KPOP BTS
,
Kpop news
,
Kpop trending
,
KPop trending news
,
Kpop trending now
,
Kpop_BTS
,
KPOP2021
,
KPOPIDA
,
KPOPNEWS
,
single CD butter
,
Trending
,
trending 2021
,
trending kpop
,
Trending Kpop news
,
trending kpop update
,
trending news
,
trending update kpop
,
US Billboard
,
US BILLBOARD CHART