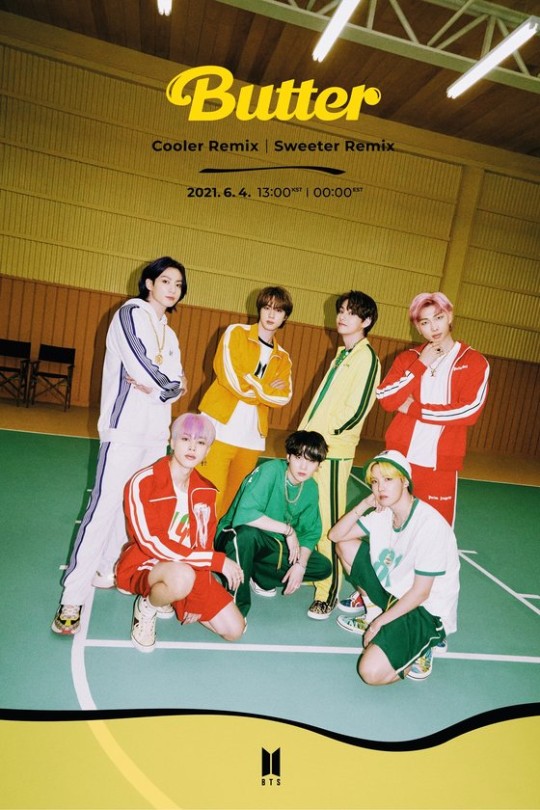 BTS 'Butter' is reborn in two versions.
On June 4th, BTS will release two remix versions of 'Butter,' which are the 'Sweeter' and 'Cooler' versions. It is expected to present a different charm from the previous 'Hotter' version.
BTS has prepared this remix with gratitude for the interest and affection of fans around the world for 'Butter.' The 'Sweeter version adds R&B sensibility to the bouncy atmosphere of the original song. While the 'Cooler' version is attractive with the refreshing feeling of the guitar sound.
Also, BTS posted a new teaser photo on their official social media, announcing the remix's release. In the music video for 'Butter,' with the gym as the background, fans can see the members wearing a comfortable tracksuit. From group photos to individual cuts, it clearly shows the individuality of the seven members. It offers a wealth of attraction.
'Butter,' released on the 21st of May, topped the 'Hot 100' on the US Billboard's latest chart (June 5). BTS has their fourth 'Hot 100' No. 1 song after 'Dynamite.'
Read More About: BTS Jin, Takes The Win As The 'Best K-Pop Prince'
2021 kpop news
,
2021 kpop updates
,
BTS
,
BTS Army
,
bts butter
,
BTS News
,
BTS songs
,
BTS today
,
bts trending
,
BTS UPDATES
,
bts_butter
,
BTSTREND
,
butter
,
Group BTS
,
KPOP
,
Kpop 2021
,
Kpop artist
,
Kpop artists
,
KPOP BTS
,
Kpop idols
,
Kpop news
,
Kpop trend
,
Kpop trending
,
KPop trending news
,
Kpop trending now
,
Kpop_BTS
,
KPOP2021
,
Kpopall
,
KPOPIDA
,
KPOPNEWS
,
trending kpop
,
Trending Kpop news
,
trending kpop update
,
trending update kpop