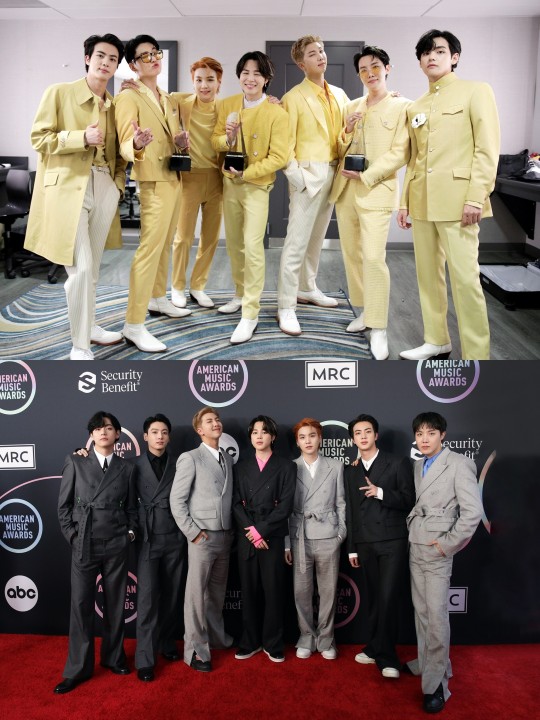 Major foreign media outlets praised BTS for winning the grand prize at the 2021 American Music Awards (2021 AMAs).
The American daily USA TODAY reported on November 22 (US time), "The BTS had a great night, maybe a miracle night, at the 2021 AMAs. The boy band from Korea won the award for its hit song 'Butter' and decorated the ending stage of the awards ceremony."
Also, CNN reported, 'Their performance was full of energy with its collaboration song 'My Universe' with Coldplay in front of fans. They also held a special fireworks effect. When host Cardi B introduced BTS and Coldplay, we could hardly hear her voice. It is due to the shouts of the crowd. BTS won a total of three awards: Artist of the Year, Favorite Pop Duo/Group, and Favorite Pop Song/Butter."
"Kpop group BTS is one of the many artists who set records at the 2021 AMAs," Billboard said.
Billboard added, "They won the award for the first time as a group since One Direction, which won the 'Artist of the Year' for the second consecutive year in 2014 and 2015."
Also, The BBC covered the news of BTS's award. The media said, "The BTS swept a total of three awards, including Artist of the Year, at the 2021 AMAS held on November 21 (US Time)."
BTS earlier held three trophies, including the grand prize 'Artist of the Year' at the 2021 American Music Awards. The members said, "Seven boys from Korea, united by love for music. This whole thing is a miracle. Thanks to the power of music and the support of many people worldwide. We came this far and received such a big award. We tried to make you happy with our music, and I believe this moment will be our new start."
BTS will host the 'BTS Permission to Dance on Stage – LA' at Sofi Stadium in Los Angeles. They will meet fans from November 27-28 and December 1-2.
Read More About: BTS Jimin Once Again Trends On Twitter As He Attends The '2021 American Music Awards'
agust d
,
best Kpop girl group
,
best kpop news site
,
best kpopstar
,
breaking news kpop
,
BT21
,
BTS
,
BTS Army
,
BTS BILLBOARD
,
bts butter
,
BTS fancam
,
BTS I'll Be Missing You
,
BTS J-Hope
,
bts jimin
,
bts Jungkook
,
BTS member
,
bts member Jimin
,
BTS member V
,
BTS Members
,
BTS News
,
BTS recent news
,
BTS routine
,
BTS solo songs
,
bts suga
,
BTS trending news
,
BTS UPDATES
,
BTS V
,
daily kpop news
,
Fandom
,
Filter
,
J-hope
,
JIMIN
,
Jin
,
JUNGKOOK
,
Korean celeb news
,
Korean singer
,
Korean singer songwriter
,
KPOP
,
Kpop album
,
Kpop beauty routine
,
Kpop boy group
,
KPOP BTS
,
kpop celebrity news
,
Kpop chart and news
,
Kpop colllaboration
,
KPOP comeback
,
Kpop current news
,
kpop daily news
,
Kpop fashion
,
Kpop girls group
,
Kpop idols
,
Kpop issues
,
Kpop latest news
,
Kpop music chart
,
Kpop news
,
Kpop news articles
,
Kpop news sites
,
kpop news update
,
Kpop recent news
,
Kpop skin care routine
,
Kpop skincare routine
,
KPop trending news
,
KPOPNEWS
,
permission to dance
,
RM
,
Run BTS
,
South Korean singer songwriter
,
SUGA
,
TAEHYUNG KIM
,
the best kpop girl group
,
the best kpop girl group of 2021
,
the best kpop group of 2021
,
the top kpop group
,
top kpop boy group
,
top kpop girl group
,
V
,
weverse magazine