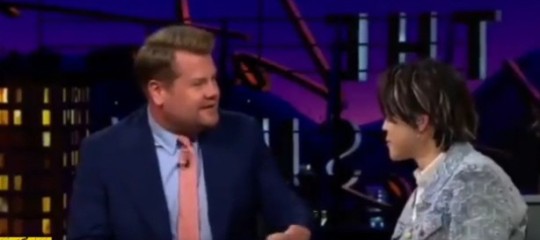 Kpop group BTS and famous TV personality James Corden showed once again their chemistry!
Why is James Corden 'Papa Mochi' and Jimin's 'Baby Mochi'?
Now, BTS and famous American show host and celebrity James Corden have formed a friendship.
Jimin, who appeared on CBS' 'The Late Late Show with James Corden,' jokes with James Corden. Corden, who previously apologized for his 'joke' related to ARMY, asks Jimin, who sits right next to him, 'Am I still papa mochi? Then, Jimin and other members shouted 'Yes, yes' and 'I love you' in unison.
Viewers who do not know the relationship between Corden and Jimin may tilt their heads about this joke.
When Kpop group BTS appeared in Carpool Karaoke, a popular corner of James Corden Show two years ago, James Corden said to Jimin, "Isn't your nickname 'Mochi'" and "I love Mochi" and Jimin improvisedly said, 'I love Mochi.'
So, James Corden gave Jimin a witty nickname with affection for each other on the spot, 'Baby Mochi.'
James Corden replaced his office nameplate and official Twitter profile with 'Papa Mochi,' boasting his connection with 'Baby Mochi' Jimin to fans worldwide.
Read More About: BTS Expresses Heartfelt Gratitude To ARMY Fans!
agust d
,
best Kpop girl group
,
best kpop news site
,
best kpopstar
,
breaking news kpop
,
BT21
,
BTS
,
BTS Army
,
BTS BILLBOARD
,
bts butter
,
BTS fancam
,
BTS I'll Be Missing You
,
BTS J-Hope
,
bts jimin
,
bts Jungkook
,
BTS member
,
bts member Jimin
,
BTS member V
,
BTS Members
,
BTS News
,
BTS recent news
,
BTS routine
,
BTS solo songs
,
bts suga
,
BTS trending news
,
BTS UPDATES
,
BTS V
,
daily kpop news
,
Fandom
,
Filter
,
J-hope
,
JIMIN
,
Jin
,
JUNGKOOK
,
Korean celeb news
,
Korean singer
,
Korean singer songwriter
,
KPOP
,
Kpop album
,
Kpop beauty routine
,
Kpop boy group
,
KPOP BTS
,
kpop celebrity news
,
Kpop chart and news
,
Kpop colllaboration
,
KPOP comeback
,
Kpop current news
,
kpop daily news
,
Kpop fashion
,
Kpop girls group
,
Kpop idols
,
Kpop issues
,
Kpop latest news
,
Kpop music chart
,
Kpop news
,
Kpop news articles
,
Kpop news sites
,
kpop news update
,
Kpop recent news
,
Kpop skin care routine
,
Kpop skincare routine
,
KPop trending news
,
KPOPNEWS
,
permission to dance
,
RM
,
Run BTS
,
South Korean singer songwriter
,
SUGA
,
TAEHYUNG KIM
,
the best kpop girl group
,
the best kpop girl group of 2021
,
the best kpop group of 2021
,
the top kpop group
,
top kpop boy group
,
top kpop girl group
,
V
,
weverse magazine