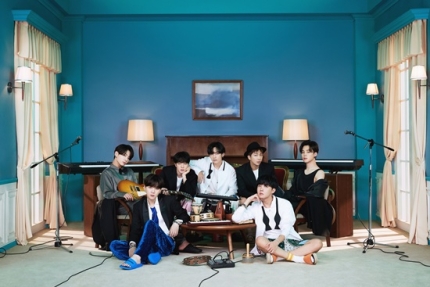 BTS 'Dynamite' ranked again on the Billboard main single chart. It maintains its spot in the top 50 for 30 consecutive weeks.
On March 23rd, Billboard, an American music media, released a chart. BTS' digital single 'Dynamite' ranked 34th. They go up 9 places from the previous week in 'Hot 100.' Even after 7 months of release, it maintained its spot in the top 50 for 30 consecutive weeks. Also, it re-entered the 30th place in the 'Hot 100.' It only proves their global popularity that does not cool off.
'Dynamite' also showed off its power as a 'global mega-hit song' on other Billboard charts. It ranked 2nd in Billboard Global (excluding the US), with streaming and sales in more than 200 countries/regions worldwide. Also, it ranked 6th on the Billboard Global 200 chart. 'Dynamite' reached the top 16th in the 'Digital Song Sales' chart. The 16th place is their second record ever since this chart was created.
BTS' albums are also raging on the Billboard charts. 'BE,' released in November of last year, reached 39th place on the main album chart 'Billboard 200'. It is three places higher than the previous week and ranked first in 'World Album.' Bts album 'BE' also ranked 7th at'Top Album Sales', 10th at 'Top Current Album Sales,' and 4th at 'Tastemaker Album.' Their 4th regular album, 'MAP OF THE SOUL: 7', released in February 2020, goes up 35 steps from its previous spot. It ranked 100th in the 'Billboard 200' and stayed on the chart for 56 weeks.
Meanwhile, BTS marks the history of popular music by performing on the 'Grammy AWARDS.' It is the most prestigious music awards ceremony in the United States held on Mach 14th.
Later, on March 17th, BTS 'Dynamite' is certified as 'Double Platinum Single' by RIAA.