Kpop group BTS became the most streamed artist in 2021, selected by the world's largest audio streaming platform Spotify.
Spotify said on December 2 that BTS ranked #1 as a result of counting the most-streamed Kpop artist this year as part of the year-end campaign 'Spotify Wrapped.'
BTS ranked third in the global artist rankings after Bad Bunny and Taylor Swift. Then, Drake and Justin Bieber took fourth and fifth places, respectively. 
Following BTS, Kpop groups BLACKPINK, TWICE, Stray Kids, and Tomorrow X Together ranked in order in the Korean artist ranking.
According to Spotify, the number of streams of the ten most-streamed Korean artists worldwide exceeded about 13.7 billion. This is an increase of about 29% compared to about 10.6 billion in the previous year.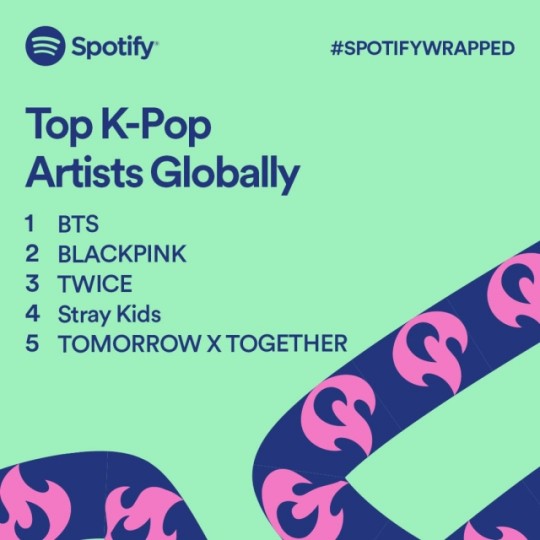 Particularly, BTS swept the No. 1 to No. 4 places in the Korean music charts that recorded the most number of streams on Spotify with a total of four songs, including 'Butter,' 'Dynamite,' 'Permission to Dance,' and 'Life Goes On.'
BLACKPINK's 'How You Like That' rose to #5. TWICE, ITZY, Red Velvet, and (G)I-DLE ranked in the female group category that BLACKPINK took first place. As for male groups, the ranking includes BTS, Stray Kids, Tomorrow X Together, Seventeen, and EXO as the most-streamed groups.
Furthermore, BLACKPINK Rosé 'R' took the top spot for the Korean solo artist single with the most streams, followed by BLACKPINK Lisa's 'LALISA' in 2nd and IU's 'Celebrity' in 3rd. Next, BLACKPINK's Jennie's 'SOLO' and IU's 'Eight' (Prod. & Feat. SUGA of BTS) ranked 4th and 5th, respectively.
Read More About: BTS V Ranks 1st As The 'Boy Idol People Want To Ride The Ferris Wheel With'
4+1 project
,
actress IU
,
agust d
,
Back Door
,
Bangchan
,
best Kpop girl group
,
best kpop news site
,
best kpopstar
,
Blackpink
,
blackpink Jisoo
,
blackpink member
,
blackpink members
,
Blackpink news
,
BLACKPINK: The Movie
,
breaking news kpop
,
BT21
,
BTS
,
BTS Army
,
BTS BILLBOARD
,
bts butter
,
BTS fancam
,
BTS I'll Be Missing You
,
BTS J-Hope
,
bts jimin
,
bts Jungkook
,
BTS member
,
bts member Jimin
,
BTS member V
,
BTS Members
,
BTS News
,
BTS recent news
,
BTS routine
,
BTS solo songs
,
bts suga
,
BTS trending news
,
BTS UPDATES
,
BTS V
,
Chaeryeong
,
Changbin
,
Codename: Secret ITZY 2
,
daily kpop news
,
DK
,
Fandom
,
Felix
,
Filter
,
Go Live
,
God's Menu
,
Guess who
,
Han
,
Hoshi
,
How you like that
,
Hyunjin
,
I.N
,
In Life
,
IRENE
,
It'z Different
,
ITZY
,
ITZY members
,
itzy news
,
ITZY updates
,
IU
,
IU news
,
iu songs
,
iu tv
,
IU updates
,
iu works
,
J-hope
,
Jennie
,
Jieun Lee
,
JIMIN
,
Jin
,
Jisoo
,
Joy
,
JUNGKOOK
,
Korean celeb news
,
Korean singer
,
Korean singer songwriter
,
KPOP
,
Kpop album
,
Kpop beauty routine
,
kpop blackpink
,
Kpop boy group
,
KPOP BTS
,
kpop celebrity news
,
Kpop chart and news
,
Kpop colllaboration
,
KPOP comeback
,
Kpop current news
,
kpop daily news
,
Kpop fashion
,
Kpop girl group ITZY
,
Kpop girls group
,
Kpop group ITZY
,
Kpop group Red Velvet
,
kpop group SEVENTEEN
,
Kpop idols
,
Kpop issues
,
kpop itzy
,
Kpop IU
,
Kpop latest news
,
Kpop music chart
,
Kpop news
,
Kpop news articles
,
Kpop news sites
,
kpop news update
,
Kpop recent news
,
kpop red velvet
,
kpop seventeen
,
Kpop skin care routine
,
Kpop skincare routine
,
kpop stray kids
,
KPop trending news
,
KPOPNEWS
,
Lee Know
,
Lia
,
Lisa
,
Love To Hate Me
,
mafia in the morning
,
permission to dance
,
Pop-up exhibition
,
POSE
,
Queendom
,
Queens Mystic General Store
,
ready to love
,
red velvet
,
Red Velvet members
,
red velvet news
,
RM
,
Rosé
,
Run BTS
,
Ryujin
,
Seungkwan
,
Seungmin
,
Seventeen
,
SEVENTEEN members
,
singer IU
,
South Korean singer songwriter
,
Stray Kids
,
Stray Kids member
,
SUGA
,
TAEHYUNG KIM
,
The Album
,
the best kpop girl group
,
the best kpop girl group of 2021
,
the best kpop group of 2021
,
the top kpop group
,
top kpop boy group
,
top kpop girl group
,
V
,
Vernon
,
weverse magazine
,
Wonwoo
,
Woozi
,
Yeji
,
YG entertainment
,
Yuna