Kpop group BTS rose to the top of the idol chart 'Acha Ranking' in the 5th week of November.
In the idol chart released on December 11, in the 5th week of November, BTS took first place with a total score of 8991 points. It includes 1083 music scores, 3578 YouTube scores, and 4260 social media scores.
On December 7, Kpop group BTS won 'The Group of 2021,' 'The Song of 2021,' and The Music Video Of 2021′ at the 'E! People's Choice Awards' in the US.
Kpop singer IU ranked second with a total of 8,286 points. Following IU was the Kpop group AESPA with 5640 points, Youngwoong Lim with 4217 points, BE'O with 4,075 points, TWICE with 3,499 points, IVE with 2,442 points, Gwangil Jo with 2,430 points), Gyeongseo Yeji with 1,814 points, and Chanwon Lee with 1794 points.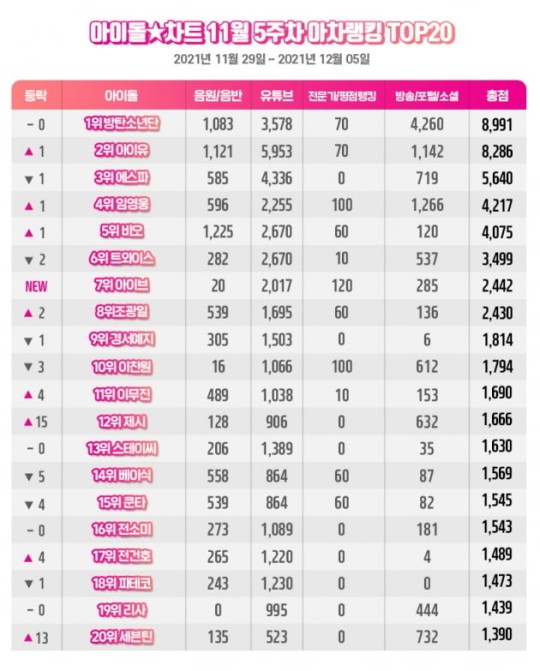 Read More About: BTS Members Ranked Within The 'TOP 30 Influencers' 5 Days After Opening Their Personal Instagram Account
agust d
,
best Kpop girl group
,
best kpop news site
,
best kpopstar
,
breaking news kpop
,
BT21
,
BTS
,
BTS Army
,
BTS BILLBOARD
,
bts butter
,
BTS fancam
,
BTS I'll Be Missing You
,
BTS J-Hope
,
bts jimin
,
bts Jungkook
,
BTS member
,
bts member Jimin
,
BTS member V
,
BTS Members
,
BTS News
,
BTS recent news
,
BTS routine
,
BTS solo songs
,
bts suga
,
BTS trending news
,
BTS UPDATES
,
BTS V
,
daily kpop news
,
Fandom
,
Filter
,
J-hope
,
JIMIN
,
Jin
,
JUNGKOOK
,
Korean celeb news
,
Korean singer
,
Korean singer songwriter
,
KPOP
,
Kpop album
,
Kpop beauty routine
,
Kpop boy group
,
KPOP BTS
,
kpop celebrity news
,
Kpop chart and news
,
Kpop colllaboration
,
KPOP comeback
,
Kpop current news
,
kpop daily news
,
Kpop fashion
,
Kpop girls group
,
Kpop idols
,
Kpop issues
,
Kpop latest news
,
Kpop music chart
,
Kpop news
,
Kpop news articles
,
Kpop news sites
,
kpop news update
,
Kpop recent news
,
Kpop skin care routine
,
Kpop skincare routine
,
KPop trending news
,
KPOPNEWS
,
permission to dance
,
RM
,
Run BTS
,
South Korean singer songwriter
,
SUGA
,
TAEHYUNG KIM
,
the best kpop girl group
,
the best kpop girl group of 2021
,
the best kpop group of 2021
,
the top kpop group
,
top kpop boy group
,
top kpop girl group
,
V
,
weverse magazine