Digital single 'Butter' maintains 1st place on Hot 100. The existing 'Dynamite' ranks 1st for 3 weeks, which is the first time in Asia and 13th in the world. As a group, BTS's first Japanese best album holds a new Oricon record, breaking the record in 1998.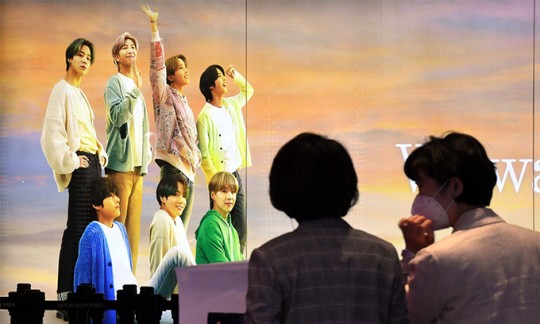 The group BTS set a milestone of topping the Billboard main single chart 'Hot 100' for four consecutive weeks.
US Billboard announced on June 21st that BTS had topped the 'Hot 100' on the latest Billboard chart with the digital single 'Butter' released on May 21st. 'Butter' went straight to No. 1 on the Hot 100 (as of June 5) chart in the first week of its entry. Then, it maintained its top position for 4 weeks, topping the latest chart. For the first time in Asia, it has been at the top for four consecutive weeks. The previous record was three times, including BTS and the late Sakamoto Kyu from Japan. According to Billboard, 'Butter' is the 13th song to have topped the list for more than four consecutive weeks. It is among 54 songs that went straight to the top in the first week of entry. BTS is the first group since Aerosmith in 1998 and the first in the 21st century.
Overall, BTS has achieved its 9th 'Hot 100' first-place. The first English song, 'Dynamite' released in August 2020, topped the chart three times. And that song made history, making BTS the first Korean singer to top the Hot 100. Since then, the remix version of 'Savage Love,' (1 time), which Jason Derulo participated in featuring, the title song of the album 'BE,' 'Life Goes On,' (1 time), and 'Butter' (4 times) topped the 'Hot 100' for a total 9 times.
According to Billboard, 'Butter' recorded 12.5 million streams, 111,400 downloads, and 25.8 million radio listeners in the US by June 17th, respectively. They set a record of 1st place in the Hot 100 for four consecutive weeks. Compared to the 24.6 million radio listeners recorded in the weekly tally until June 13th, one can guess that it is gaining more popularity in the fourth week of its release.
Such results are analyzed to have been greatly influenced by BTS' announcement of various versions of 'Butter.' BTS released the original song and instrumental version of 'Butter' on May 21st. On May 28th, the 'Hotter' version arranged with EDM and 'Sweeter' and 'Cooler' versions with R&B colors and other sounds were additionally released. Thanks to this, 'Butter' has also remained No. 1 on Billboard's 'Digital Song Sales' chart for four weeks.
In addition, BTS set a new Oricon record with the best album 'BTS, THE BEST' released in Japan. According to Japanese Oricon, 'BTS, THE BEST' took first place in the first week of its release with sales of 782,000 copies on the latest chart (June 28) of Oricon's 'Weekly Album Ranking.' Particularly, 782,000 copies are the highest sales record in the first week of this year based on the 'Weekly Album Ranking.'
Read More About: 'K-Pop 4 Planet' CNN Reports Environmental Movements Of K-Pop Fans (BTS, EXO, & BLACKPINK)
2021 kpop
,
2021 kpop news
,
2021 kpop news updates
,
2021 kpop updates
,
2021 news kpop
,
2021 updates on kpop
,
BTS
,
BTS J-Hope
,
bts Jungkook 2021
,
BTS News
,
BTS songs
,
BTS today
,
bts trending
,
BTS UPDATES
,
BTS V
,
BTS_JIMIN
,
BTS_RM
,
BTS_SUGA
,
BTSTREND
,
Group BTS
,
J-hope
,
jin bts
,
jin kpop
,
KPOP
,
Kpop 2021
,
Kpop artist
,
Kpop artists
,
KPOP BTS
,
Kpop idols
,
Kpop news
,
Kpop trend
,
Kpop trending
,
KPop trending news
,
Kpop trending now
,
Kpop_BTS
,
KPOP2021
,
Kpopall
,
KPOPIDA
,
KPOPNEWS
,
Kpopnews 2021
,
trending kpop
,
Trending Kpop news
,
trending kpop update
,
trending update kpop