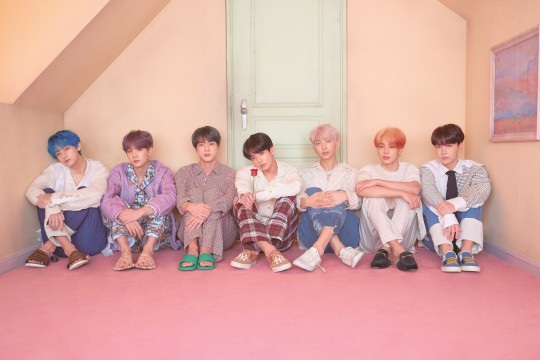 BTS received new 'Platinum,' 'Gold,' and 'Silver' certifications from the Recording Industry Association of Japan (RIAJ). So, a total of 5 songs are certified by RIA Japan.
On July 28th, the RIA Japan announced five BTS songs on the list of certified works for June.
'Boy With Luv (Feat. Halsey),' released in April 2019, achieved 'Platinum' certification by exceeding 100 million cumulative plays.
Also, 'LOVE YOURSELF: Answer' title track 'IDOL' (August 2018), Japanese original song 'Film Out' (April 2021), and digital single 'Butter' (May 2021) have been certified as 'Gold' with over 50 million cumulative playbacks.
Then, BTS' song 'I NEED U,' the title track of 'The Most Beautiful In Life (Hwayang Yeonhwa) Pt.1,' released in April 2015, has been certified as 'Silver' with more than 30 million cumulative playbacks.
The RIA Japan classifies songs into Silver (more than 30 million times), Gold (more than 50 million times), Platinum (more than 100 million times), and Diamond (more than 500 million times) according to the cumulative number of plays of songs. They authenticate it on their official website every month.
As a result, BTS has included the title song 'Stay Gold' (July 2020) of their 4th full-length Japanese album 'MAP OF THE SOUL: 7 ~THE JOURNEY~,' which was certified 'Platinum' by the RIA Japan in May. So, already 6 songs have been certified.
BTS also obtained the RIA Japan's 'Million' certification (announced on July 9) for the cumulative shipments of their albums. Japan's best album, 'BTS, THE BEST,' released on June 16th, exceeded 1 million copies in cumulative shipment. It received the 'million' certification. In fact, BTS is the only artist to received 'million' certification from the Japan Record Association this year.
Read More About: BTS, The Boyz, ITZY, & Many Kpop Stars Supports Korean Athletes!
2021 kpop news
,
2021 kpop news updates
,
2021 kpop updates
,
BTS
,
BTS News
,
BTS songs
,
bts the best album
,
BTS today
,
bts trending
,
BTS UPDATES
,
BTS_LOVE YOURSELF: Answer
,
BTS_MAP OF THE SOUL: 7 ~THE JOURNEY
,
BTS_The Most Beautiful In Life
,
BTSTREND
,
Group BTS
,
KPOP
,
Kpop artist
,
Kpop artists
,
KPOP BTS
,
Kpop latest news
,
Kpop news
,
Kpop trending
,
KPop trending news
,
Kpop_BTS
,
KPOP2021
,
KPOPIDA
,
KPOPNEWS
,
Kpopnews 2021
,
Recording Industry Association of Japan
,
RIAJ
,
Trending Kpop news