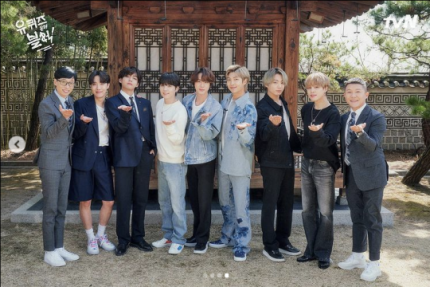 BTS filming site for 'U Quiz' episode was revealed.
On March 21st, tvN entertainment program 'U Quiz on the Block' posted on their official SNS. In the post, there's a photo with the article titled, "Precious BTS 'U Quiz' outings."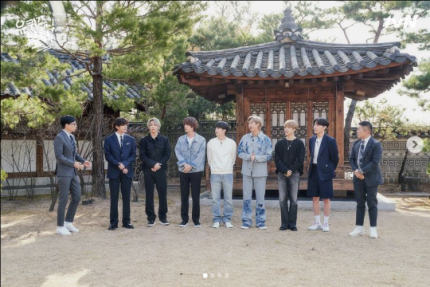 In the photo, BTS is recording with MC Jae-Seok Yoo and Se-Ho Jo. Besides, the shot they took together captured the appearance of the members smiling brightly. It is as if they were having fun on an outing to an entertainment program after a long time.
Meanwhile, the group appeared on the tvN entertainment program, 'U Quiz.' Their episode aired at 8:40 pm on March 24th.
More K-pop News:
BTS Exclusive Appearance on the Popular TVN Show, 'U Quiz On The Block'
Brave Girls Appeared on TVN's 'U Quiz On The Block'
BTS V Fans Conducted A Congratulatory Advertisement
2021 kpop news
,
2021 kpop news updates
,
2021 kpop updates
,
2021 updates on kpop
,
BTS
,
bts 2021
,
BTS Army
,
BTS News
,
BTS today
,
BTS UPDATES
,
BTS V
,
BTSTREND
,
Group BTS
,
KPOP
,
Kpop 2021
,
Kpop artist
,
Kpop artists
,
KPOP BTS
,
Kpop news
,
Kpop trending
,
KPop trending news
,
Kpop_BTS
,
KPOP2021
,
Kpopall
,
KPOPIDA
,
KPOPNEWS
,
Kpopnews 2021
,
Kpopnews2021
,
Trending
,
trending 2021
,
trending kpop
,
Trending Kpop news
,
trending kpop update
,
trending news