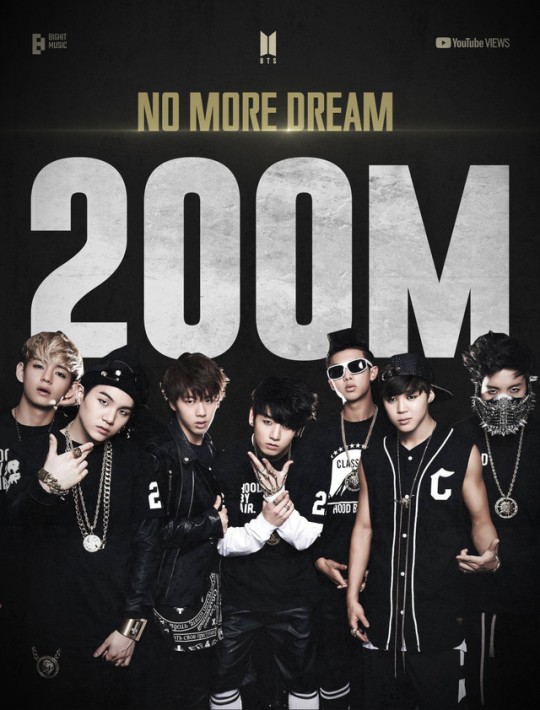 The music video of 'No More Dream' by the group BTS exceeded 200 million views.
According to the Big Hit Music on May 22nd, the title track 'No More Dream' of BTS debut album '2 COOL 4 SKOOL' released in June 2013, exceeded 200 million Youtube views as of 10:49 am.
Among BTS' music videos, 'No More Dream' is the 20th in total to exceed 200 million views.
BTS's debut song 'No More Dream' is a reinterpretation of the hip-hop sound of the 1990s. It fitted the sensitivity of the time in 2013. The heavy bass performance at the beginning that creates a strange sense of tension is impressive.
The music video shows the members going out of the streets, leaving out school. It is impressive to see a video depicting a deviation that anyone would have dreamed of at least once. It shows tearing up their report cards, hanging out with skateboarders, and walking around the streets.
BTS has a total of 33 billion viewed music videos, including 'No More Dream.' Their song 'DNA' and 'Boy With Luv' both have 1.2 billion views.
Read More About: BTS 'Butter' MV Reached 100 Million Views Within 21 Hours
2021 kpop news
,
2021 kpop updates
,
BTS
,
BTS Army
,
BTS News
,
BTS songs
,
BTS today
,
BTS UPDATES
,
BTSTREND
,
Group BTS
,
KPOP
,
Kpop 2021
,
Kpop artist
,
Kpop artists
,
KPOP BTS
,
Kpop idols
,
Kpop news
,
Kpop trend
,
Kpop trending
,
KPop trending news
,
Kpop trending now
,
Kpop_BTS
,
KPOP2021
,
Kpopall
,
KPOPIDA
,
KPOPNEWS
,
Trending
,
trending kpop
,
Trending Kpop news
,
trending kpop update