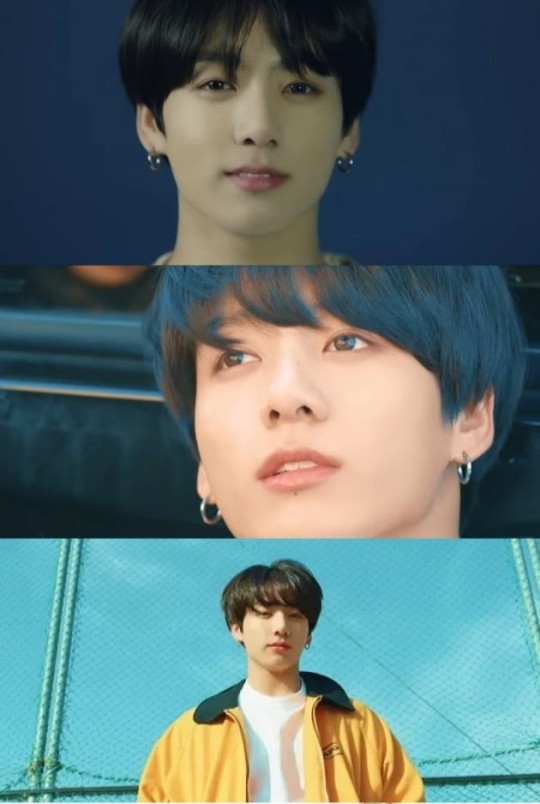 The video of BTS Jungkook's solo song 'Euphoria' is enjoying 'hot' popularity on YouTube.
The 'Euphoria'-themed video released on the official YouTube channel of 'HYBE LABELS' on April 6, 2018, has recently surpassed 87 million views due to its steady popularity.
Also, Jungkook's 'Euphoria' mixed version, published on BTS' official YouTube channel 'BANGTANTV' on June 11, 2019, under the title '[2019 FESTA] Euphoria (DJ Swivel Forever Mix) – JK memories by BTS' hits 29 million views.
'Euphoria' is an EDM pop genre song. Listeners worldwide loved the song as it beautifully harmonizes Jungkook's clear tone and refreshing voice.
In addition, the addictive chorus and fantastic high-pitched parts give a rich impression and give you a stronger emotion.
Meanwhile, the 'Euphoria' mixed version creates a mysterious and lyrical atmosphere by combining Jungkook's explosive emotions and deep soulful singing on a dreamy melody that unfolds calmly and warmly.
Mainly, Jungkook's layered harmony and appealing voice and Jungkook's natural image taken by the members are present in the video. So, it multiplies the vagueness and leaves a deep impression.
In fact, this song is a newly re-arranged song to mark the sixth anniversary of BTS's debut.
Also, they released the song free of charge on SoundCloud.
Along with this, the behind-the-scenes video of recording the 'Euphoria' mix version, titled 'Behind the Scenes, Recording Euphoria (DJ Swivel Forever Mix ver.)' on BANTANGTV, also exceeded 9 million views.
The video shows BTS Jungkook recording an additional ad-lib of the Euphoria mix version.
Jungkook devoted himself to building high-pitched chords and came up with various ideas, adding and supplementing ad-libs until he liked them and presenting better songs to fans.
Meanwhile, 'Euphoria' is gaining popularity on Spotify, the world's largest music platform. It is the first among Korean male idol solo songs to exceed 289 million streams.
Read More About: BTS V's 'Sold Out King' Aspects Shines In The FILA Winter Season Advertisement
agust d
,
best Kpop girl group
,
best kpop news site
,
best kpopstar
,
breaking news kpop
,
BT21
,
BTS
,
BTS Army
,
BTS BILLBOARD
,
bts butter
,
BTS fancam
,
BTS I'll Be Missing You
,
BTS J-Hope
,
bts jimin
,
bts Jungkook
,
BTS member
,
bts member Jimin
,
BTS member V
,
BTS Members
,
BTS News
,
BTS recent news
,
BTS routine
,
BTS solo songs
,
bts suga
,
BTS trending news
,
BTS UPDATES
,
BTS V
,
daily kpop news
,
Fandom
,
Filter
,
J-hope
,
JIMIN
,
Jin
,
JUNGKOOK
,
Korean celeb news
,
Korean singer
,
Korean singer songwriter
,
KPOP
,
Kpop album
,
Kpop beauty routine
,
Kpop boy group
,
KPOP BTS
,
kpop celebrity news
,
Kpop chart and news
,
Kpop colllaboration
,
KPOP comeback
,
Kpop current news
,
kpop daily news
,
Kpop fashion
,
Kpop girls group
,
Kpop idols
,
Kpop issues
,
Kpop latest news
,
Kpop music chart
,
Kpop news
,
Kpop news articles
,
Kpop news sites
,
kpop news update
,
Kpop recent news
,
Kpop skin care routine
,
Kpop skincare routine
,
KPop trending news
,
KPOPNEWS
,
permission to dance
,
RM
,
Run BTS
,
South Korean singer songwriter
,
SUGA
,
TAEHYUNG KIM
,
the best kpop girl group
,
the best kpop girl group of 2021
,
the best kpop group of 2021
,
the top kpop group
,
top kpop boy group
,
top kpop girl group
,
V
,
weverse magazine