BTS Jungkook showed off his super-strong social power on TikTok, surpassing 100 billion views for the first time around the world.
Jungkook boasted unparalleled popularity, surpassing 100 billion views with his unique personal hashtag '#jungkook' on TikTok, a global short-form video platform.
BTS Jungkook achieved 33 billion views on TikTok on February 5 last year with '#jungkook.'
Then on February 18, after about a year, the number of views increased to 69.5 billion views, breaking the 102.5 billion mark.
Notably, in TikTok, which surpassed Google, the world's largest search engine, to become the world's most visited site in 2021, Jungkook, who does not have a personal account, achieved 100 billion won as the world's first individual person with just the hashtag '#jungkook.'
BTS Jungkook showed tremendous power.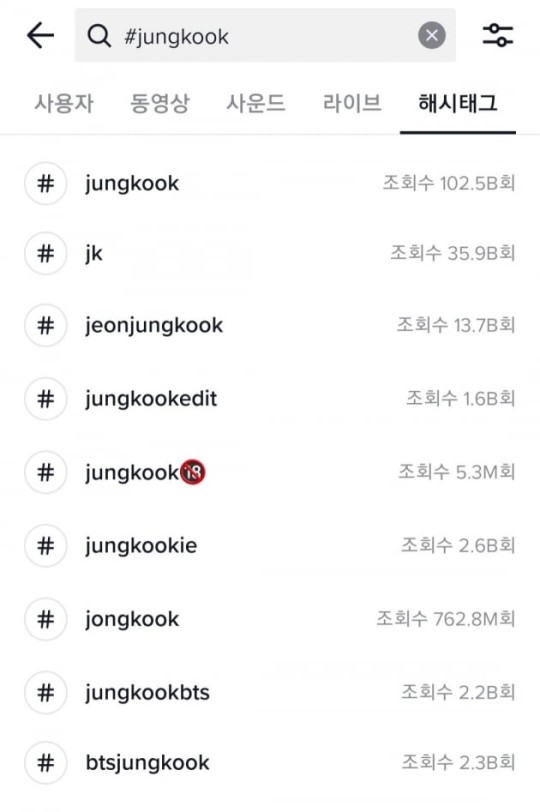 This is the record for the number 1 view among individual TikTok individuals worldwide, demonstrating unparalleled global popularity and influence.
As of February 18, '#jungkook' recorded 102.5 billion views, followed by the hashtag '#jk' related to BTS Jungkook achieved 35.9 billion views, '#jeonjungkook' with 13.7 billion views, '#jungkookie' with 2.6 billion views, and '#btsjungkook' achieved 2.3 billion views.
The total number of views of BTS Jungkook's five hashtags alone reached 157 billion views.
Meanwhile, BTS Jungkook ranked first in the world's largest search engine 'Google' for the most searched Kpop idol for five years in a row. Also, he ranked 1st place for the most searched Kpop idol on YouTube for five consecutive years from 2016 to 2021. Then, BTS Jungkook was 'Korea's most retweeted person' in 2017 and 2018 on Twitter, 1st in 'World's most retweeted Tweet' in 2019, and ranked 2nd in 'World's Most Retweeted Tweet' in 2022. He is sweeping the No. 1 titles on various social media with many users around the world.
You Might Also Like:
agust d
,
best Kpop girl group
,
best kpop news site
,
best kpopstar
,
breaking news kpop
,
BT21
,
BTS
,
BTS Army
,
BTS BILLBOARD
,
bts butter
,
BTS fancam
,
BTS I'll Be Missing You
,
BTS J-Hope
,
bts jimin
,
bts Jungkook
,
BTS member
,
bts member Jimin
,
BTS member V
,
BTS Members
,
BTS News
,
BTS recent news
,
BTS routine
,
BTS solo songs
,
bts suga
,
BTS trending news
,
BTS UPDATES
,
BTS V
,
daily kpop news
,
Fandom
,
Fantasy Idol
,
Filter
,
J-hope
,
JIMIN
,
Jin
,
JUNGKOOK
,
karma
,
kingdom
,
KINGDOM comeback
,
KINGDOM Kpop group
,
KINGDOM latest updates
,
KINGDOM Members
,
Korean celeb news
,
Korean singer
,
Korean singer songwriter
,
KPOP
,
Kpop album
,
Kpop beauty routine
,
Kpop boy group
,
KPOP BTS
,
kpop celebrity news
,
Kpop chart and news
,
Kpop colllaboration
,
KPOP comeback
,
Kpop current news
,
kpop daily news
,
Kpop fashion
,
Kpop girls group
,
Kpop idols
,
Kpop issues
,
Kpop latest news
,
Kpop music chart
,
Kpop news
,
Kpop news articles
,
Kpop news sites
,
kpop news update
,
Kpop recent news
,
Kpop skin care routine
,
Kpop skincare routine
,
KPop trending news
,
KPOPNEWS
,
permission to dance
,
RM
,
Run BTS
,
South Korean singer songwriter
,
SUGA
,
TAEHYUNG KIM
,
the best kpop girl group
,
the best kpop girl group of 2021
,
the best kpop group of 2021
,
the top kpop group
,
top kpop boy group
,
top kpop girl group
,
V
,
weverse magazine