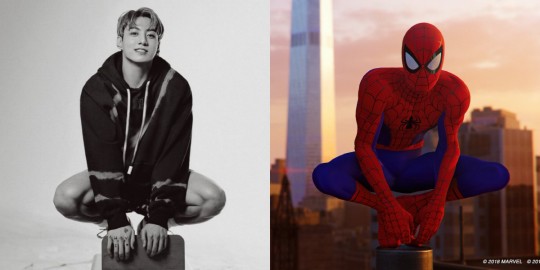 BTS Jungkook is gaining much attention as the 'next-generation Spiderman.'
Recently, an American entertainment media reported that a pictorial of Jungkook for the BTS special editions of GQ Korea and Vogue Korea was very similar to Spiderman's pose. Some fans edited the photo, which became a hot topic on Twitter.
In response, the media said, "Jungkook's pictorial photos gave us confidence that he will become the 'next-generation Spiderman.'"
An Indian media also shared the photo on Twitter with the caption, "Spiderman pose!"
Some also shared photos that revealed the commonalities between BTS Jungkook and Tom Holland. They even compared the poses to prove that Jungkook is perfect for the role.
Another Indian media reported that "Jungkook was reborn as Spiderman," and "He nailed Tom Holland's pose in a fashion pictorial. So, BTS ARMYs believed he could become a "next-generation Spiderman."
On social media, fans said, "Jungkook must have been a Spiderman in a different universe," "He looks very good in the character," "JK is our Spiderman♡," "JK is confirmed to be a Spiderman," and "JK seems to match Peter Parker's energy."
On December 18, an interview clip video conducted by actors Tom Holland, Zendaya, and Jacob Batalon, who starred in 'Spider-Man: No Way Home,' was released on the official Twitter account of the movie.
In the interview video, Tom Holland said, "I really like the edited video of BTS Jungkook. You always make it so well. It's really fun," he said. So, many photos and videos of Jungkook and Spiderman poured out in the comments on the post.
Reactions such as, "I can't believe Tom Holland watched a composite video of Jungook," and "Is JK the next Spiderman," continued.
Read More About: BTS Drops 'Butter (Holiday Remix)' Dance Practice Video As Surprise Gift To Fans
agust d
,
best Kpop girl group
,
best kpop news site
,
best kpopstar
,
breaking news kpop
,
BT21
,
BTS
,
BTS Army
,
BTS BILLBOARD
,
bts butter
,
BTS fancam
,
BTS I'll Be Missing You
,
BTS J-Hope
,
bts jimin
,
bts Jungkook
,
bts Jungkook 2021
,
bts Jungkook birthday
,
bts Jungkook height
,
BTS member
,
bts member Jimin
,
BTS member V
,
BTS Members
,
BTS News
,
BTS recent news
,
BTS routine
,
BTS solo songs
,
bts suga
,
BTS trending news
,
BTS UPDATES
,
BTS V
,
BTS_JUNGKOOK
,
daily kpop news
,
Fandom
,
Filter
,
J-hope
,
JIMIN
,
Jin
,
JUNGKOOK
,
jungkook bts
,
jungkook euphoria
,
jungkook kpop
,
jungkook of BTS
,
jungkook_bts
,
jungkook_my time
,
JUNHO 2pm
,
Korean celeb news
,
Korean singer
,
Korean singer songwriter
,
KPOP
,
Kpop album
,
Kpop beauty routine
,
Kpop boy group
,
KPOP BTS
,
kpop celebrity news
,
Kpop chart and news
,
Kpop colllaboration
,
KPOP comeback
,
Kpop current news
,
kpop daily news
,
Kpop fashion
,
Kpop girls group
,
Kpop idols
,
Kpop issues
,
Kpop latest news
,
Kpop music chart
,
Kpop news
,
Kpop news articles
,
Kpop news sites
,
kpop news update
,
Kpop recent news
,
Kpop skin care routine
,
Kpop skincare routine
,
KPop trending news
,
KPOPNEWS
,
permission to dance
,
RM
,
Run BTS
,
South Korean singer songwriter
,
SUGA
,
TAEHYUNG KIM
,
the best kpop girl group
,
the best kpop girl group of 2021
,
the best kpop group of 2021
,
the top kpop group
,
top kpop boy group
,
top kpop girl group
,
trending kpop update
,
V
,
weverse magazine